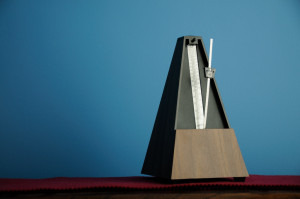 Most musicians have been encouraged to practice with a metronome at some point. I certainly was, more than once.

But I never liked practicing with a metronome. It was boring and annoying. Maybe it would have been different if instead of going beep or click, it went quack, but regardless, I dreaded the metronome and secretly tried to disable more than one in my youth.
But then I recently stumbled across a handful of studies which found that golfers, soccer, and tennis players benefit from practicing with a metronome. Which made me go wha…??? Full story.
Noa Kageyama (The Bulletproof Musician)
Weblink : http://www.bulletproofmusician.com/
Photo credit : http://andylemaire.com/