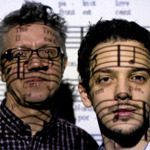 When young Milun Tesovic arrived in Canada from Bosnia in 1995, he could only manage a "tiny, tiny" bit of English – a few basic words and phrases. Five years later, at 15, he created a website that would help boost the lyrics literacy of young music fans everywhere, and the legitimacy of the online lyrics business by embracing an above-board, licensed model.


Today, MetroLyrics, co-founded with family friend Alan Juristovski, is the third-biggest music website in the world, behind MySpace and Yahoo! Music, with tens of millions of unique views every month.
"When we started, Alan had a hard time convincing me that we'd be a $1-million company one day. And I would have been ecstatic about that. But where we are today – I never would have thought," said Tesovic, now 25, during a recent interview at the Burnaby, B.C., offices of MetroLeap Media, which operates MetroLyrics.
They won't say where exactly they are financially – beyond acknowledging that they are "well past" that million-dollar mark.
"Coming from a very poor country and having mediocre jobs here, had I followed a typical career path, I probably would not be able to afford to live [where I do] right now," says Tesovic – a former chain-restaurant dishwasher who now lives in a luxury condo in downtown Vancouver and drives a Bentley – an older model that he bought used, he points out, anxious to convey that he is not living the high life.
Still, it's been quite a life.
Tesovic was a young boy when war broke out at home and he was separated from his parents for two years as a result. "It has not created any issues," he said, emphasizing the positive as he sipped a Red Bull. "I had a great childhood and I've always been happy."
When his family moved to Canada, Tesovic knew how to say numbers and colours in English, and some helpful phrases such as "Can I borrow a pencil?" and "Can I go to the bathroom?" He spent a year in ESL.
He had a talent for computer programming and at 14, in Grade 9, he started creating websites for fun. It wasn't long before he determined that lyrics were among the most popular Web searches, and that there was a dearth of reliable lyrics information.
At 15, he began a user-generated lyrics website, choosing the name MetroLyrics from a domain name spinner. He designed it, programmed it, worked on it at home and in the computer lab at school. He showed it to friends who shared it with their friends. As more users contributed and searched the site, the website started moving up on the search engines. It began looking more like a business and less like a hobby.
That's when Juristovski, now 49, signed on as CEO. Unlike Tesovic, whose title is Chief Technology Officer, he was old enough to open a corporate bank account. The two ran the business out of their separate condos, and then, when they moved to houses, out of their basements.
Today there is a staff of 11 with new hires on the way, an open-concept office with a daily catered lunch and a Zen room equipped with a massage chair – and a view of that condo complex where Tesovic and Juristovski were living when they co-founded the company.
And there is financial security. "We have always been profitable," says Tesovic. "The recession did not affect us. We did not have to lay anybody off."
Song lyrics are widely sought online. Bing – Microsoft's search engine – released data last year that showed 78 per cent of people it surveyed use Internet searches to find lyrics. There's a good chance – especially if it's a newer song – that MetroLyrics will pop up at or near the top of the results for such a search. It's ranked 26th for overall Google search results, just behind MapQuest, CNN and TripAdvisor. Depending on whose numbers you employ – different organizations use different criteria – MetroLyrics received 29 million page views (comScore) in December and 45 million in January (Google Analytics).
MetroLeap makes most of its money through advertising, with some 500 brands displayed on its site on any given day – including fast-food restaurants, banks and iTunes. Ringtone downloads provide another "substantial" revenue stream, but it's advertising that pays the bills.
Song publishers are paid through an aggregator, the Sony subsidiary Gracenote. MetroLyrics posts authorized, "official" lyrics when they can, rather than user-generated ones.
"From day one Milun and I had a discussion: How could we legalize it?" says Juristovski. "That was the core discussion."
Even before they found the aggregator, they say, they were putting money aside so they could pay the publishers once such a model was established.
Trying to push their business forward, Tesovic and Juristovski have recently redesigned their website to highlight celebrity news, videos, music charts and other content beyond their bread-and-butter lyrics. They've developed mobile apps as well and say they receive more than nine million monthly visits to their site by smart phones.
"For us I think the most excitement comes from the numbers every day, crunching them, seeing if we are doing better, if we're doing worse, what they're saying now, are we getting critiqued?" says Tesovic. "Our only concerns are what can we do next to improve our product."


Marsha Lederman | February 17, 2011


Weblink: http://www.theglobeandmail.com/