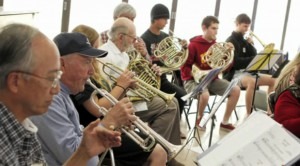 It's a perfect Sunday afternoon, and the sounds of an orchestra are wafting across the playing fields outside the Hillview Community Center in Los Altos. A flyer taped to a music stand at the front door of a multipurpose room announces the event: "TERRIBLE ADULT CHAMBER ORCHESTRA meeting here today."

Inside, 50 musicians are sight-reading Brahms' "Lullaby," and, yes, entering the room, you hear all the lurid details. The violins are sensationally out of tune; the French horns are blooping notes big-time. Yet the familiar melody grows strong and soulful, and you can feel the pleasure of the performers and their conductor, Cathy Humphers Smith, who, as the piece ends, exclaims, "Wow, you guys, whoa! Great job. Those trills were gorgeous!"
The Terrible Adult Chamber Orchestra, TACO for short, is part of a movement of self-proclaimed "terrible" orchestras — though the quality of performance isn't the point. TACO isn't about perfection or pressure. It's about old-fashioned pleasure, taking that clarinet out of the closet and sitting down with like-minded people to run through some Brahms or some show tunes.
"What's the goal?" asks Humphers Smith. "The goal is to play music together. That's it. People are wanting something that's nurturing of the soul."
TACO is one of many community orchestras in the Bay Area, though one of only two that revel in their terribleness. (The other is Berkeley's Really Terrible String Orchestra, or RTSO.) Both were inspired by Scotland's Really Terrible Orchestra (RTO), founded in the mid-1990s, which has gained international coverage for its horrid performances in London and New York. Its audiences "wait for something to go wrong, and we never disappoint them," brags its famous sousaphonist Alexander McCall Smith, author of the bestselling "No. 1 Ladies' Detective Agency" novels.
Founded in January 2011 by Humphers Smith and her viola-playing husband, Kent Smith, TACO assembles once a month for
a "gathering" — the pressure-packed word "rehearsal" is carefully avoided. For a $10 fee — or $25 for three sessions — anyone can drop by to play with the anxiety-free orchestra, which meets again Sunday. Offered as a class by the Los Altos Recreation Department, it is for people who love to play but hate to practice, who enjoy classical music but can't stomach its nerve-wracking perfectionism.
Unlike its Scottish forebear, it never performs. That's a selling point for TACO's members, many of them high achievers — physicians, teachers, tech workers — who perform to exacting standards daily in the workplace.
"I'm into the whole idea of not performing and just coming here to have fun, playing the music, meeting the people," said Ron Ibaraki, 61, a systems engineer from Los Altos who hadn't touched his clarinet since high school until joining TACO. "And if you play a few wrong notes, that's all right, too."
Lara Levy, a 23-year-old bassoonist and music teacher from Los Altos, enjoys the "variety of music that we play — and the food, the social-ness. Most weeks, I have an 80-year-old bassoon partner, and he's a blast."
At its recent gathering, TACO's ranks included beginners and more advanced players. Twelve-year-old trumpeter Gabi Laugenson, a hot talent, was with her grandmother, violinist Gloria Blomberg, who plays with the South Bay's semiprofessional Nova Vista Symphony.
And there was Art Schwartz, 79, who played French horn in the Westchester (N.Y.) Philharmonic as a young man, married, moved to California in 1967 and became an engineer. "I put the horn away," he said, shrugging. But two years ago, he fell on an escalator, landed in rehab and decided to rebuild his lung capacity. Out came the horn. Still ambitious, he figures that with "a solid year or two of work," he can move on to a less terrible orchestra.
He and the others praise the welcoming attitude of Humphers Smith, whose living room is where TACO got launched.
Schooled as a pianist while growing up in San Luis Obispo and Sacramento, she became a social worker but never lost her addiction to music. While raising two sons, she was a docent with the Music for Minors program in San Mateo and Santa Clara county schools, later becoming its program director. For a decade, she has led children's choirs.
At TACO's last gathering, her son Benjie — just back from his junior year at Pomona College — was among the trombonists. Husband Kent, a radiologist at Kaiser Permanente, was one of two violists. Among the flutists was her mother, Rina Humphers, about whom the conductor jokes, "She doesn't hear very well. She doesn't count, and I'll hear her say, 'Where are we?' "
After finishing Brahms' "Lullaby," the orchestra broke into applause. Laurel Hayler, a 69-year-old psychiatric social worker who plays flute, let out a deep sigh, looking content beyond words.
Humphers Smith had brought along lots more music, including Rossini's Overture from "The Barber of Seville," which moves at about 100 miles an hour. "If it feels like the train is getting away from you," she told her troops, "just do your best."
When it was over — and it didn't sound half-bad — the musicians noshed on deviled eggs and cold drinks. The usual potluck. Then the Terrible Adult Chamber Orchestra settled in for another hour, playing Simon & Garfunkel tunes and a medley from "The King and I." All those great songs: "We Kiss in a Shadow," "I Whistle a Happy Tune."
A mother and her three children stood beside the door on this perfect Sunday, listening. Terrible? Somehow, the word wasn't relevant.


Richard Scheinin (Mercury News) / June 22, 2012


Weblink : http://www.mercurynews.com/
Photo credit : http://www.mercurynews.com/