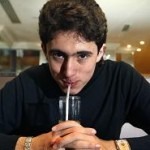 Smarting from his rejection by British orchestras, the conductor Alex Prior went off to conduct the Seattle Symphony Orchestra in January, having beaten 180 applicants for the post. Nothing too remarkable about that until you realise he is 17 and travelled there with his mother.


After this, the grounds for astonishment start to tumble over each other like waves of Tchaikovsky. Or rather, bars of John Adams, since Prior, who is also a prolific composer, has passed through his Romantic 19thcentury period and is now heavily into minimalism. Next week he makes a brief return trip to the old country to conduct the Royal Philharmonic at the Barbican.
Last year he became both admired for his virtuosity and vilified for his apparent arrogance when he starred in a Channel 4 series called The World's Greatest Musical Prodigies. He was seen travelling the world in search of four other prodigies — a term he now says he detests — to perform a concerto composed by him. He has had his picture hung next to Dizzee Rascal and the soccer star Theo Walcott in the National Portrait Gallery. At 12 he was the youngest musician commended in the BBC's Young Composer of the Year competition. Four years on he was runner-up in the Leeds Conductors Competition, the youngest entrant to have achieved that distinction.
His parents have been dubbed pushy, which he says is unfair. "It couldn't be farther from the truth. I was given the chance to try out everything — tennis, painting, dancing, conducting — and it was clear to me and them that music was the path." One critic wrote that it was cruel to feed a child's delusions of grandeur when what he needed was a reality check.
Perhaps this has already come in the form of British orchestras' lack of interest. "He applied everywhere in England," his mother said, "and nobody wanted him. He applied in America and everyone wanted him." The Seattle job is the newly created post of chairman's fellow. Prior will be the assistant to the orchestra's guest conductors, includiung the maestros Kurt Masur and Vassily Sinaisky. If one of them is indisposed, the young Englishman could find himself on the podium. He is unfazed by the prospect. Nervous anxiety is a stranger to him, except when his work is being performed by others.
In his youth — that is, at the age of 3 — he started playing the piano, leaving the composing until he was 8. A couple of years later he was dubbed the "Little Pavarotti" because of his eerily powerful young voice. Footage of a tribute performance for Meryl Streep at the closing ceremony of the Moscow Film Festival shows him singing O Sole Mio in a boy's pitch, but with the swagger and intonation of an operatic tenor three times his age and four times his weight.
Prior winces at the recollection of that occasion, and says he doesn't do that sort of thing any more. For a start his voice is long broken. "It never broke," he corrects me. "It just got lower. It was a gradual descent." He still loves the limelight, but for the dissemination of the music rather than for himself.
When I first spoke to him, it was on the eve of his departure for Seattle. He is well over 6ft tall, with a lolloping gait, a head of lush black hair, huge eyes and downy chin. I have met only one other teenager who gave off such an air of a life compressed, and that was Macaulay Culkin, the Home Alone film star, who was divorced, over drugs, and contemplating a career shift on to the stage — but then he was pushing 20. Prior comes into the room with all the accoutrements of supremely confident English youth, but there is something emphatically "other" about him, and the English public school voice turns out to be a false signal. Although his father comes from a long line of farmers and runs a small renewable-energy business in Berkshire, his mother is Russian, a former actress and descendant of the great Russian theatre director Konstantin Stanislavski. For four years Prior has been living and studying in the cultural hothouse of St Petersburg, where he has been a student at the highly conservative Conservatoire. His mother has lived there with him, not so much as carer, he says, as "a sort of assistant. Inevitably that gets less as you grow older."
Before Russia he was at University College School in Hampstead, where he says he was neither particularly happy nor sufficiently challenged. "My vision of ideal schooling is to let the child do what he wants to do," he says. "It is our right as young people. We have the right to bugger it up or to make a success of it. Every person is the blacksmith of their own fortune — if they are given the opportunity."
He goes into a litany of passions and ambitions, ranging from the magnificence of Finnish literary epics through the sublime brilliance of his idol John Adams to his dreams of staging the Ring Cycle in Old Norse. Names, dates, works and aperçus fly out with impatient speed. Imagine a turbocharged Patrick Moore.
"I wouldn't want to live any other way," he says when I ask him if his life ever seems strange. "People talk of lost childhoods. But if I hadn't gone to Russia, I wouldn't have learnt so much. I don't want to brag, but I come across as a walking encyclopaedia. It is knowledge that I may not have had if I had tried to learn it later. When I'm in Seattle, I might come into a slightly more normal young person's life."
Does he go on dates? "I haven't come to that yet. Clubbing is hell. But to go out for nice meals, or mountain walks with other young people … from 13 to 17 I spent hours and hours in libaries. I was stuck there. In a sense I went through being Wagner. Then I realised that there's more to life."
Never mind precocious, it's the other P-word that still burns. "I think prodigy is an awful word. Disgusting. I don't think people should be given these descriptions. If I was having a competition, I wouldn't mind comparing an 11-year-old to a 30- year-old. Either you've got it or you haven't — the talent and the ability to work. That's why Jewish and Asian instrumentalists often do well, because they have the capacity to sit on their bums and practise. Everyone has talents. We are all basically the same in our emotions . The difference is how we express them."
Today, two and a half months into his Seattle job, Prior is jubilant. He has already conducted five performances with the orchestra, as well as giving talks and lectures. Life as a conductor, he says, involves much more than being a musician. "Seattle is a fantastic place," he enthuses. "Brilliant orchestra. Top-notch musicians. I have even seen one of the world's greatest conductors [the Danish Thomas Dausgaard] conducting Sibelius very much as I would!"
No hard feelings towards Britain? "No. It's just that England has its national psyche, as other countries do. The fact that I wasn't given a job isn't really a criticism of English orchestras, other than that they should be helping young conductors. I am very excited to be working with the Philharmonic [at next Thursday's concert]."
What will happen to this, talented, opinionated (his word) young man? "In ten years? Chief conductor of one of the major American orchestras. That's my aim."
In 1943 a young conductor deputised for the ailing Bruno Walter with the New York Philharmonic at Carnegie Hall and made his name in the process. His name was Leonard Bernstein, and he was 25. Many might bet against Prior doing something similar — but he wouldn't be one of them.

Alan Franks | April 3, 2010
Weblink: entertainment.timesonline.co.uk