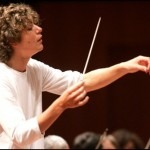 It's a very assured – not to say very brave – young conductor who chooses to make his debut with the London Symphony Orchestra in Sibelius' notoriously challenging Seventh Symphony. Mighty talents have fallen at this particular fence, defeated by the work's circuitous evolution and elusive logic.


Robin Ticciati has no fear, though, and more importantly has been mentored by a man who knows the Sibelian psyche and terrain better than most – Sir Colin Davis. Could this be his heir apparent?
Opening with rather rarer but more instantly accessible Sibelius – the orchestral suite of incidental music from King Kristian II – it was the phrasal fluidity of Ticciati's beat that instantly drew such a vocal quality from Sibelius' songful melodies. Ticciati makes good use of his long arms and fingers – the sound seems to emanate from them; shapeliness and sensitivity to the tiniest nuances come naturally; and he truly understands the meaning of the word sostenuto, which is why the second movement Elegie for strings alone felt so seamless. But above all it is his ability to create atmosphere and have us share in those anticipatory moments where the air around us seems to move differently that singles him out from the crowd.
The quality of sound he coaxed from the LSO strings in the opening to the second movement of Grieg's Piano Concerto was, one felt, imagined and prepared during the intake of breath before a single note had been played. And in those few bars of music he set down the distillation of mood necessary to make something truly pure and glacial of the soloist's limpid arabesques. The gifted Macedonian pianist Simon Trpceski was that soloist and, between them, he and Ticciati gave us the most beautiful and unhackneyed account of this ubiquitous concerto that I have heard in a very long time. 
This was so very far removed from the splashy and overcooked and, yes, vulgar accounts that get trotted out on a far too regular basis. How often keyboard and orchestra seem to pull at Grieg's well-aired tunes, smothering them with affection, denying them their space? Here they simply emerged as fresh and unassuming as in the moment they were created. Trpceski's elegant touch produced exquisite sound, nothing forced or over-accentuated, everything attended with the utmost modesty. He echoed rather than endorsed the flute's unexpected melody in the finale, preserving its innocence and respecting its fragility, and even the grandiose transformation of it in the final bars was all about nobility as opposed to grandstanding. 
Magnus Lindberg's fabulous elaboration of the Bach chorale "Es ist genug" (designed to complement the Berg Violin Concerto) might have seemed like an oddly inflated precursor to Sibelius' Seventh Symphony, but Ticciati drew some subtle parallels with the solemn chorale-like trombone theme which signposts our way through the uncharted landscapes of this, the last and most inexorable of the Sibelius symphonies. This music seems to come up through the bass lines and Ticciati was ever mindful of them. Conductors tend to work the Seventh far too hard (technically speaking it's a Catch-22 kind of piece); the trick is to exert control whilst conveying freedom – to convince us, as Ticciati did, of the work's logic and inevitability. This is music born of the elements and that wonderful polyphony beginning in violas, cellos and basses shortly after the start of the piece is as close to a musicalisation of evolution as anything I know. 
The symphony ends with a question mark – the most equivocal C major in all music – but no such doubts exist over Robin Ticciati's future.

Edward Seckerson | 26 March 26, 2010
Weblink: theartsdesk.com