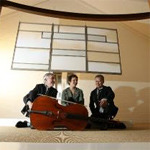 GOOD furniture needs good music. When furniture designer Khai Liew wanted to exhibit his latest creations for the SALA Festival, he called in the Zephyr Quartet to provide some furniture music.


The quartet does not actually play the furniture. Furniture music was invented and first composed by the eccentric French composer, Erik Satie, back in 1917.
With a little help from Adelaide composer and Satie specialist Stephen Whittington, some of the music has been adapted for string quartet for the occasion. Whittington has also written a new piece of furniture music tailored to the exhibition.
"My music is a kind of mixture of western and Chinese elements, a bit like Khai's furniture," said Whittington yesterday.
He said that Satie had originally intended furniture music to be part of the decor, and put people in the right mood. "It was first performed in a foyer during the interval of a play and when the musicians started playing the people stopped talking to listen, and Satie rushed around saying "Don't listen, don't listen."
Khai Liew said he decided to celebrate the SALA Festival by inviting six leading South Australian artists and craftsworkers including four potters and one jeweller to exhibit at his studio, while he designed furniture to display their works. "My furniture is about rhythm and space and between the lines, and the work that Stephen Whittington has written is perfect for that, because it is also all about space and time and rhythm," he said.


Tim Lloyd | July 26, 2010
Weblink: http://www.adelaidenow.com.au/