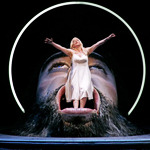 VIENNA — If you wanted a fun night at the opera, you'd probably pick a Rossini comedy, or maybe "Così fan tutte."


"Salome" would undoubtedly not be on your list.
Yet I have rarely had as much good nasty fun as I did on 25 April in the Grosses Festspielhaus, when the Salzburg Easter Festival presented Richard Strauss's 1905 reworking of Oscar Wilde's play.
Simon Rattle led the Berliner Philharmoniker in a new production by regietheater proponent Stefan Herheim, whose highly personal concepts of operatic warhorses have been controversial to say the least. In 2002, his "Die Entführung as dem Serail" was so loudly booed during performances at the Salzburger Festspiele that festival management requested him to return, meet with the public and make changes to the production. At Volksoper Wien in 2004, he set "Madama Butterfly" in the center of a contemporary art gallery showing a Puccini exhibit, with the composer onstage for much of the opera; at the end, Cio-Cio-San refuses to commit suicide, so she is stabbed to death by the art patrons who demand a properly operatic denouement.
In Graz in 2006, he made Carmen a Putzfrau in an art museum and Don José a security guard; so wildly inventive and popular was this interpretation, additional performances were added, and the production will return in the 2011-2012 season. In 2008, he gained both respect and near-universal acclaim for his Bayreuth "Parsifal," which seems to tell the entire story of German history from the death of Wagner to the present.
For "Salome" (a co-production with Teatro Real, Madrid and Den Norske Opera & Ballett, Oslo), Herheim revels in the sheer camp of every word of Wilde's gloriously purple prose (adapted almost verbatim by Hedwig Lachmann).
Everyone in "Salome" talks about the moon at some point, so Heike Scheele's set consists of a humongous moon, a rarely-stationary bronze telescope that takes up the greater part of the stage and serves as a ladder and walkway, a glitzy, starry cosmos and a crumbling black marble terrace. Gesine Völlm's costumes – black and white with a few wild exceptions – are dusted with glitter.
The biggest visual contribution, however, comes from video by fettFilm, the company formed by Momme Hinricks and Toege Møller. The moon really is the moon, but it takes on its own character as it moves through phases, changes color, spews flames and sprouts eyeballs that blink in disbelief as the Jews conduct their ear-splitting argument over who was the last person who saw God.
It is unfortunate that there were no subtitles, as much of the humor in the libretto was lost on a jet-set audience that had paid up to €510 ($756) per ticket and had little interest beyond hearing some pretty music. (The gentleman on my left looked at his watch every few minutes for the duration of the opera.)
When plying Salome to dance for him, Herodes offers, among many other things, a sip of a "luscious wine which Caesar himself gave to me," at which point an actor dressed as Julius Caesar slipped a flask into Herod's hand. I think I was the only one in the entire house who laughed. Herheim didn't let a word pass without finding a double meaning or a joke in it.
Indeed, Caesar is there, as are Napoleon, Charlemagne, Kaiser Wilhelm II and other figures and iconography from socio-political or biblical history since history was recorded. When Herodes offers Salome a bite of his apple, it's a gold, cross-topped coronation orb.
Salome is no precocious teenager, but rather a voluptuous young woman in a low-cut white frock with a puffy skirt and blond locks piled on her head, Mae West style. Her mother, Herodias, is in a copy of the outfit, but in black with a Bettie Page hairdo, as is the Page. Usually a trouser role, the part was played as a woman who lusts after Narraboth, the much-ignored soldier enamored of Salome, with the same intensity with which Salome lusts after Jokanaan (John the Baptist).
In fact, the Page Girl is so in love with Narraboth that when he slashes his throat to gain Salome's attention (blood spatters on Salome, who takes no notice), she engages in some simulated necrophilia, and herself commits suicide by placing the lethal dagger upright in the corpse's hand and, carefully taking aim, impales her vagina with it and drops dead. As insane as it sounds, it was so outrageously over-the-top, it provoked laughter. Another lewd gesture that Wilde would have appreciated came when Salome literally sat on the face of Jokanaan in her unsuccessful attempt to seduce him. Masturbation, frottage and sodomy also put in appearances.
With probably the hugest orchestra in opera, fluffed out with every percussion instrument imaginable, the exoticism and barbarism of "Salome," epitomized by the "Dance of the Seven Veils," are still outrageous and over-the-top in 2011. (Remember that the opera was banned after its Met premiere in 1907 and did not appear again until 1934.)
And what about that dance? How many sopranos have we seen wiggle, squiggle bump and grind through seven minutes of utter humiliation (except maybe for Maria Ewing), or just give up and leave a body double several kilos lighter to substitute for the requisite gyrations (as Deborah Voigt recently did at Wiener Staatsoper). Herheim has a video dancing girl appear in a circle in the moon wearing a brightly-colored frilly dress, only to be kicked out of the moon by the next girl in a line behind her, each girl then appearing onstage in the flesh in a bit of stage magic until there is one girl for each veil, each in a different color. They wind up waiving red veils and waltzing with Herodes' party guests. Again: inventive and outrageous.
Herheim's (literally) biggest departure came with the traditional raising of the severed head of Jokanaan from the cistern. Up it came, the size of a Macy's Thanksgiving Day Parade balloon. Not only did Salome rub and kiss its lips, she disappeared entirely into its mouth for the duration of the final argument between Herodes and Herodias. This gives Salome a break before knocking out those high B-flats at the end of her Schlussgesang.
Rather than have Salome crushed to death upon Herodes' order in the opera's final bars, Herodias climbs onto the telescope and, using it as a weapon, fires a bomb into the moon, which shatters like glass; the broken pieces rain down on the stage, destroying all.
Vociferous booing began immediately, despite that this was the second performance of two, and Herheim wasn't even there to take a bow. People literally ran up the aisles as soon as there was light enough to do so without tripping.
Reactions to the singers and Maestro Rattle have been mixed, unjustly to my mind. Emily Magee was a superb Salome with a big, plumy sound capped by a radiant top, a Straussian voice perfectly suited to the role (her only fault being a loss of otherwise perfect diction in the upper reaches; but then, Jokanaan is not the easiest word to sing). And, no small feat, she ardently played along with Herheim's gimmicks.
Stig Anderson, past the prime of his heldentenor days and looking well-fed, was an appropriately odious Herodes. As his wife Herodias, the ageless Hanna Schwarz, whose career began more than 40 years ago, looked and sounded unbelievably spectacular, in total command.
Iain Paterson was a powerful, heroic Jokanaan, showing an expressive, ringing baritone, maintaining dignity even when Salome holds a dagger across his throat and makes him waltz with her (Strauss did love three-quarter time!).
Young Slovakian tenor Pavol Breslik, on the verge of a great international career, made a huge impression with his sweet tone and impassioned delivery in the unrewarding role of Narraboth (he kills himself on page 102 of the orchestral score). Rinat Shaham, a rising, young, deep-voiced Israeli mezzo, made more of the tiny role of the Page than I have ever heard. The nine-man ensemble of Jews soldiers, and Nazarenes showed no weak links in some extraordinarily difficult ensembles.
Rattle's "Salome" is not the Viennese confection so many conductors make of it. Rather, he put it in historic context: atonality was created in 1908 and "Le sacre du printemps" premiered less than a decade after "Salome." This was a no-frills "Salome," deeply concentrated on Strauss's unmatchable expressive details. The Philharmoniker virtually exploded in a non-stop barrage of kaleidoscopic colors, inexorably building to an apocalyptic climax over 106 minutes.
Those who remained in the hall awarded the cast one curtain call before rushing off to neglected Blackberries and BMWs. At least I had fun.


Larry L. Lash | May 11, 2011


Weblink: http://www.musicalamerica.com/
Photo credit: Osterfestspiele Salzburg