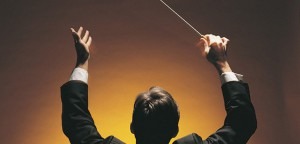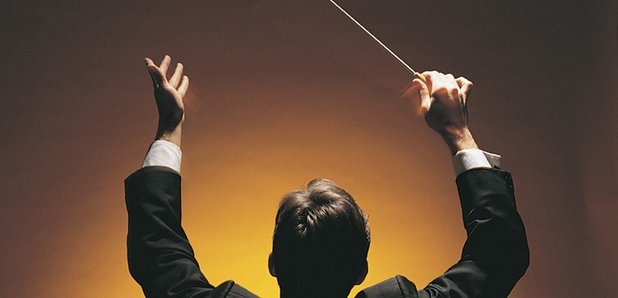 Read however many books you like about the principles of leadership, but in watching an orchestra rehearse a new piece for two hours, you can learn everything there is to know about leadership.

That's the philosophy behind an executive education course case study offered by such prestigious schools as Harvard in Boston and INSEAD in France, which plunge students into the orchestra pit along with professional musicians to better understand the dynamics of corporate management.
"A leader has to understand how to adapt his style to bring a group of different people into a single voice," explains Jon Chillingerian, Associate Professor of Health Care Management at Brandeis University's Heller School who led the course at INSEAD as a visiting professor recently, featuring the Deutsche Philharmonie Merck (in English, The Merck Orchestra).
"I must take these people and give them the feeling that everyone is important to me," says Merck Orchestra conductor Wolfgang Heinzel. "One must give everyone the feeling that he is important…otherwise you get this feeling of 'I'll just do my job and…pffft'."
Merck – founded in 1668 in Darmstadt, Germany – is the world's oldest pharmaceutical and chemical company. It is the 80-musician orchestra's main sponsor. The orchestra's repertoire incudes everything from Mozart to Brahms to Ravel, Bizet, Gershwin, Stravinsky and more. It performs not just in Germany but across Europe as well as in Brazil and Mexico. Ticket sales – ranging in price from 10 to 36 Euros ($13-$45 USD) – contribute to the budget.
Heinzel has conducted the orchestra since 1986. With flowing white hair and a German accent, he is right out of central casting. But he has the insights of Freud.
The Inner Executive
"I swear to you that everybody wants to express what he has inside," he says. "I must give everybody the feeling that I accept him as a person…We have people from different cultures, different nations, sitting there in the orchestra. They know their instruments, they know how to play their parts…but now I have to bring all that together."
Watching the orchestra and analyzing the role of the conductor are ways of seeing leadership from a different perspective, and there are many parallels between orchestras and corporations. Typically, orchestras are divided into four sections: woodwind. , brass, strings, and percussion. Each section has its lead player: first violinist, first clarinetist etc. This is the orchestra's "executive team."
"I want everybody to look at him," Heinzel points out, referring to the first violinist, "not at me. I give him the responsibility to lead." And indeed everyone gets his marching orders from the first violinist, who is following the conductor.
In the exercise I attended, the orchestra was learning to play together a piece by Mendelssohn. While all were familiar with the piece, and many no doubt had played it before, this was the first time the Merck Orchestra members were playing it together. At the first go, the notes were there, the tempo nearly there; passion and elegance were missing. Heinzel corrects and directs: the violins are overdoing it.
"A maestro cannot play all the instruments," Heinzel explains. "What he does is create a collaborative effort."
"When they have a new piece of music (a sight read) what Heinzel does is what every good leader does: diagnose the situation, identify the problems. He's identifying where they need to work," adds Chillingerian.
By the third play-through, the music is nearly there: the phrasing, the notes, the tempo, the emotion. The musicians are listening to each other, complementing each other, not overpowering each other. The hard work is done. Now it is up to the musicians to play the piece as Heinzel has laid it out.
"A leader has to understand how to adapt his style in order to bring all these people into a single voice," explains Chillingerian.
It is an example of how leaders can not only direct, but inspire and empower the workforce. "I give my orchestra a safe space," says Heinzel. "I bring them together so they play for the piece – not for me or for themselves. If they overplay, everything is kaput."
Shellie Karabell (Forbes) / January 10, 2015

Weblink : http://www.forbes.com/
Photo credit : http://assets4.classicfm.com/