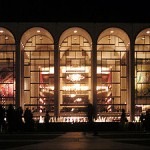 The cast of Verdi's "Traviata" at the Metropolitan Opera Saturday night looked much relieved to have the conductor Marco Armiliato in the pit instead of Leonard Slatkin, who had conducted on Monday, the opening of the run.

Although Mr. Slatkin is a major conductor who has excelled in challenging symphonic repertory, especially American contemporary music, he led an awkward, shaky performance of "Traviata," resulting from his self-admitted unfamiliarity with the score and, just as serious, his lack of affinity for the Verdi style. When Mr. Slatkin withdrew from the run late last week, the Italian-born Mr. Armiliato agreed to conduct the second performance. He is a reliable, experienced and, lately, very busy house conductor at the Met. In a 12-hour marathon on Saturday, Mr. Armiliato conducted Verdi's "Aida" in the afternoon, had a break, grabbed a bite, and then took the podium to conduct "La Traviata."
The performance he drew, though not flawless, had confidence, clarity and style. The coordination between the orchestra and the singers was much more natural, flexible and in sync than it had been under Mr. Slatkin. Mr. Armiliato may not be a conductor of choice for "Tristan und Isolde," let alone something like "The Nose," Shostakovich's wild early opera. But he is steeped in the 19th-century Italian opera tradition and knows his Verdi. He can anticipate the expressive freedoms that singers take in shaping the composer's long-spun lines, something he demonstrated over and over in this "La Traviata."
Body language during the curtain calls told all about the feelings of the singers toward the conductors. On Monday the soprano Angela Gheorghiu, who had sung Violetta, would not get near Mr. Slatkin when it came time for singers to hoist hands with the conductor. But on Saturday, a beaming Ms. Gheorghiu would not let go of Mr. Armiliato's hand. A little earlier, when the veteran baritone Thomas Hampson, who sang Germont, took his solo bow, he gave an eager thumbs-up salute to Mr. Armiliato in the pit. James Valenti, the dashing young American tenor who made his Met debut on Monday as Alfredo under Mr. Slatkin, seemed liberated on Saturday night under Mr. Armiliato. His voice, which combines warm, appealing sound with robust, youthful energy, made an even better impression.
Mr. Armiliato had not had an orchestra rehearsal with the cast. But he is a "Traviata" veteran who had conducted the work some two dozen times, including six performances in 2006 and 2007 with Ms. Gheorghiu.
There were some rough patches and glitches. Ms. Gheorghiu is an impassioned and impetuous artist. As on Monday, she was so swept up in her singing that she sometimes jumped ahead of the orchestra. There were moments when the tempo she wanted seemed not at all clear. But Mr. Armiliato ably navigated these hazardous spots. He knew when to ease the orchestra into place behind Ms. Gheorghiu and when the better course was to set a steady tempo and let her adjust. In contrast, Mr. Slatkin had seemed rattled by Ms. Gheorghiu's impetuosity.
As of this writing, the Met has still not announced a conductor for the April 7 performance. Steven White, in his Met debut, conducts on April 10. Yves Abel takes over for the four final performances, through April 24.
Anthony Tommasini | April 4, 2010
Weblink: artsbeat.blogs.nytimes.com