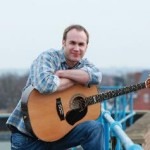 AN Australian musician has become possibly the world's greatest guitar teacher after placing his lessons on YouTube. Justin Sandercoe's free online tutorials for beginner guitar players have been viewed more than 60 million times in the past four years.


"It started off just as a way of getting more students for my private lessons," he told The Courier-Mail. "Then it went up and up and up."
The 34-year-old began teaching guitar when he was only 12 years old, putting up a sign in his bedroom window in Hobart to advertise his lessons.
Neighbourhood kids, and some adults, would learn from him at the bargain rate of $1 a time.
"Once I had done 15 lessons and I had $15 I'd use that to go and have a guitar lesson with the proper guitar teacher," Mr Sandercoe said.
"I just played all the time. I did a bit of cricket and football with the boys but more often than not I'd spend the day inside playing the guitar."
With the help of a Tasmanian government arts grant he moved to London, where he studied music and went on to tour with singer Katie Melua.
"In 2006 when YouTube started taking off I started making videos and it just started going off," he said.
"I was still touring with Katie and doing videos in my tour bus and in my hotel room."
Mr Sandercoe set up a website on an honour system under which those who could afford to pay for the lessons were encouraged to make donations.
"If I charged for the website I could make a hell of a lot more money," he said.
"But this way I can help loads of people play guitar and I make a comfortable living, which is great.
"I've got a recording studio with lovely old guitars and play guitar all day.
"I mean, that's living the dream for me."
Of his 25,000 unique visitors a day, some donate a few dollars and others have chipped in with much more substantial contributions.
"I just randomly went home from the studio one day and there was a cheque from a guy in America for $5000," Mr Sandercoe said.
"Over two years or whatever he'd gone from never being able to play the guitar before to doing a gig with his mates in a pub."
Mr Sandercoe lives in London and is often recognised, even when grocery shopping at his local supermarket.
"I had a guy stop me and say 'Excuse me are you Justin? I learned guitar from you. Thank you'," he said.
His following has also caught the attention of Sony, which has signed him up to record a lesson for AC/DC's Shoot to Thrill ahead of the song's inclusion on the upcoming Iron Man 2 soundtrack.

David Murray | March 24, 2010
Weblink: couriermail.com