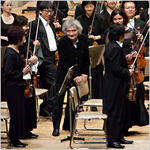 MATSUMOTO, Japan — The big news from Asia about Western classical music has been coming for a decade from China, where the surge in education and performance has been explosive. The brash and hugely gifted pianist Lang Lang has been an apt symbol of that explosion, though new star Chinese performers and composers seem to emerge by the month.


The Chinese classical scene was amply represented in New York last season, alongside indigenous traditions, in a Carnegie Hall festival, Ancient Paths, Modern Voices, that prominently featured Lang Lang.
In Japan, which is to receive the full Carnegie treatment this season with JapanNYC, a two-part festival starting in December, an intense fascination with Western classical music has a longer history. It is best symbolized in the public mind by the conductor Seiji Ozawa, who has maintained a booming career in the West over half a century.
Mr. Ozawa, who is the artistic director of JapanNYC, began an onstage comeback from cancer surgery last week here at the Saito Kinen Festival. But this festival and its location bring to mind other Japanese pioneers as well.
Matsumoto, a smallish city in the foothills of the Japanese Alps, about a four-hour drive northwest of Tokyo, is best known for its magnificently restored samurai castle. But it was also the postwar home of the violinist and teacher Shinichi Suzuki, the founder of the Suzuki method of introducing young children to instrumental performance, which has spread worldwide, especially to the United States. Modeled after the teaching of languages to children and often using miniature instruments and group performances, the method also aspires to foster a learning environment and develop personal character. For many it has proved an effective way to acquire musical technique.
The Saito Kinen Festival itself — Kinen means "memorial" — is dedicated to another renowned pedagogue, Hideo Saito, a cellist, conductor and mentor to countless Japanese musicians of more advanced ambitions, notably string players. Two of those musicians, Mr. Ozawa and another conductor, Kazuyoshi Akiyama, founded the Saito Kinen Orchestra in 1984, to commemorate the 10th anniversary of the master's death. The orchestra, made up mostly of Saito alumni and their students, formed the basis of the festival, which was established here in 1992.
Despite its modest scale the festival quickly achieved international acclaim, mainly through the quality of the performers and productions Mr. Ozawa, still its director, has managed to attract. This year it ran almost three weeks and included three orchestral programs, two of them to have been conducted twice each by Mr. Ozawa.
But with Mr. Ozawa still hampered by back problems that preceded his surgery and have outlasted his recovery, those concerts were instead led by Tatsuya Shimono, a young winner of the Besançon conducting competition in France. Those programs and a third from last season (Britten's "War Requiem") are to open JapanNYC at Carnegie, where the hope remains that Mr. Ozawa will have recovered enough to conduct them.
Also traveling to Carnegie will be a memorial concert honoring the Japanese composer Toru Takemitsu. An annual event at Saito Kinen, the concert is organized by his daughter, Maki Takemitsu, who works in the administration of the festival. This year's concert features improvisation on Takemitsu's film scores, and at Carnegie it will follow a 14-day series of Takemitsu-scored movies at Film Forum in the South Village.
The events in Matsumoto were rather thinly spaced by the standards of an international festival, and during the last week I was able to hear only the Shimono orchestral concerts and an abbreviated version of Humperdinck's "Hänsel und Gretel" for young people: in this case a full house of 1,800 angelically silent and attentive junior high school students. The production was borrowed from the Dallas Opera, and the performance was charming.
But much more remarkable was the stellar playing of the Seiji Ozawa Ongaku-juku (Youth Academy), a training orchestra that will also appear at Carnegie in April. With Mr. Shimono now otherwise occupied, the musical direction fell to an even younger conductor, Yukari Saito (no relation to Hideo Saito), and she led with wonderful sweep and confidence.
The festival also included a production of Strauss's "Salome" (from the Lyric Opera of Chicago, with the soprano Deborah Voigt) that Mr. Ozawa was originally to have conducted but could not, and a series of chamber concerts.
Yet the heart of the festival, in more ways than one, is the Saito Kinen Orchestra. In addition to being one of the finest ensembles to perform in Japan (however sporadically), it is something of a microcosm of the Japanese classical music scene.
To hear his students tell it, Saito was the one who put heart into Japanese string playing and was more than anyone else responsible for its extraordinary current level. For him technique was merely a beginning. He stressed phrasing, expressiveness and warmth, and to some extent he enforced them through fear.
In any case, the Saito Kinen string players — professionals, mostly Japanese, from other orchestras or the freelance world — are brilliant and soulful. The winds and percussion players, no less brilliant for the most part, are largely imported from the West.
The strings stole the initial spotlight in a program addition, the opening movement of Tchaikovsky's Serenade for Strings, a Saito favorite that Mr. Ozawa conducted as his reduced stint in each of four concerts. In a moving tribute to Saito and to Mr. Ozawa, the players poured more intense emotion into the music than Tchaikovsky himself may have invested in it.
"Seiji Ozawa is really special for us," said Takayoshi Wanami, a blind violinist who has played in the orchestra from the start, missing only a few years when he was committed to solo engagements. "His power is so strong, it awakens everybody."
The Ozawa performances were compelling not only for audience members but also for nonparticipating musicians. "The Tchaikovsky made me wish I were a violinist," said Christopher Martin, the principal trumpeter of the Chicago Symphony Orchestra.
The other works in the programs, conducted by Mr. Shimono, were Saito Kinen standbys: Brahms's First Symphony and Berlioz's "Symphonie Fantastique"; Takemitsu's classic "November Steps"; and Atsuhiko Gondai's "Decathexis," newly commissioned by the festival and by Carnegie Hall.
Brahms's First figured in the orchestra's inaugural program in 1984, and Mr. Ozawa has always liked to perform Brahms symphonies with this orchestra, he said in an interview, because of the special qualities of the string playing. The development of wind playing in Japan has lagged behind the strings, Mr. Ozawa added, though he singled out one orchestra member, the young second trombonist, Mayumi Shimizu, as holding particular promise. Ms. Shimizu is already principal trombonist of the Bruckner Orchestra Linz in Austria.
Several of the American and European wind players said they had seen great improvement among their Japanese colleagues. "Our days might be numbered," Mr. Martin said of the non-Japanese players with a certain satisfaction. And the uniform excellence of the youth orchestra gave further promise of a brighter future for Japanese orchestral excellence across the board.
As for the larger picture, you have to wonder who will succeed Mr. Ozawa as the figurehead of classical music in Japan. There are prominent artists in more limited spheres: the superb pianist Mitsuko Uchida and the early-music conductor and keyboardist Masaaki Suzuki, both of whom are also Carnegie-bound. But is there any towering figure on the horizon?
"There's nobody that has his profile yet," said Costa Pilavachi, the senior vice president for classical artists and repertory of Universal Classics and an artistic adviser to Mr. Ozawa. "But a lot have a following in Japan who are just not known outside Japan."
Certainly Mr. Shimono made great strides last week in his most significant engagement to date, though so far he lacks the dynamism and charisma that Mr. Ozawa had even as a raw youth.
This may be a matter of some urgency, for China and Japan are becoming as important to Western classical music as the music is to them. Saito had the dream, Mr. Ozawa has said, of "Japanese people one day transmitting Western music back to its European homeland."
That return may not have seemed crucial to the West at the time. But increasingly you have to wonder whether, as the West casts aside music education, if not the music itself, the countries of East Asia will become the great conservators of Western classical music.


James R. Oestreich | September 12, 2010
Weblink: http://www.nytimes.com