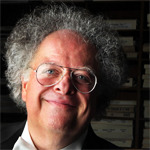 NEW YORK (AP) — "James Levine: 40 Years at The Metropolitan Opera" (Amadeus Press), by the Metropolitan Opera: There are few surprises or fresh insights but plenty of nostalgia in this softcover coffee-table book that celebrates James Levine's extraordinary career at the Metropolitan Opera.


Organized chronologically from his debut in June 1971 (Puccini's "Tosca"), it documents in photographs some of the more than 2,000 performances he has conducted. And, as the book reminds us, he was there for many of the milestones of the last four decades: Kiri te Kanawa's unscheduled debut in 1974; Birgit Nilsson's return in 1979; Leontyne Price's farewell in 1985.
Interspersed with the photos are tributes from singers he has worked with, along with his own reflections on the productions and the casts, plus brief appraisals by orchestra members, music critics and Met officials.
The singers uniformly praise Levine as a performer's dream conductor: quick to understand their problems, flexible in responding, always supportive and prone to smiling from the podium and giving them a thumbs-up after a particularly good job. The musicians attest to his crucial role in building up the Met orchestra to one of the finest ensembles in the world.
For his part, Levine has nothing but good things to say about his stars, many of whom he helped nurture as young artists. In fact, the relentlessly upbeat tone can become cloying, so it's a relief to hear him mention a disagreement with tenor Jon Vickers over a phrase in Verdi's "Otello" and a conversation in which Luciano Pavarotti begged the maestro to lavish on him some of the attention he was paying to rival tenor Placido Domingo.
Among the more intriguing items: a photo of his first Met contract, signed by then-General Manager Rudolf Bing and calling for him to be paid $700 per performance. Also, a mention by former General Manager Bruce Crawford that Levine, always eager to sharpen his skills, avidly attended every rehearsal by legendary conductor Carlos Kleiber during his few Met appearances.
Conspicuously absent is any mention of some of the more negative chapters during his regime. There are several photos of soprano Kathleen Battle, but not a word from Levine, who had been one of her main champions. And no reference to her highly public firing by General Manager Joseph Volpe for disruptive behavior.
There's a picture of mezzo-soprano Waltraud Meier starring in Franco Zeffirelli's notorious "Carmen," but no mention of her despair over that misguided production, which drove her from the Met stage for several seasons.
The closest Levine comes to acknowledging a crisis is his discussion of the damage done to his efforts to build up the orchestra and repertory by a prolonged 1980 strike, which he calls "the singular low point of my entire artistic life."
Inevitably, the book has a bit of the air of a valedictory tribute, given Levine's increasingly shaky health, cutbacks in his schedule and the emergence of Fabio Luisi as chief guest conductor and, some speculate, heir apparent.
But however long Levine is able to continue conducting, his legacy at the Met and in the history of opera is secure. And this book is a handy reminder of some of the highlights of his unparalleled career.


Mike Silverman | May 6, 2011


Weblink: http://www.musicalamerica.com/
Photo credit: http://www.boston.com/