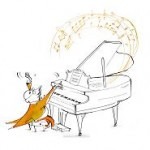 A race for ever-greater virtuosity, with accompanying physical demands, has made today's pianists wary of the tradition


Marc-André Hamelin is not easily fazed. The French-Canadian pianist is what they call a super virtuoso. Stick any bit of Liszt, Chopin, Rachmaninov, Ligeti or Messiaen in front of him — stick a bar code in front of him, in fact — and he'll probably be able to play it. Next week, however, as he walks out on stage at the Wigmore Hall he might look a little more nervous
than normal. Awaiting his fingers will be one the most frightening piano compositions ever written: Charles-Valentin Alkan's Symphony for solo piano from his 12 Etudes.
"The études tax interpretative and pianistic resources to the maximum," Hamelin says with a sharp intake of breath, as if even he, who has known, played, recorded and lived with these pieces since he was 8, is only now realising what's in store. "It's not just about ability; it's about endurance. The physical demands are really quite great."
With their dense, semi-quavered forests, breakneck speeds and waves of cascading parallel octaves, the gargantuan works of the eccentric, reclusive Alkan — who once expressed a desire to set the Bible to music — represent a high-water mark for the 19th-century craze for pyrotechnic pianistic display.
The race for ever greater virtuosity began with the technological transformation of the piano. The addition of metal plates, bars and an octave and a half's more keys produced a sturdier, roomier and more expressive instrument that allowed the Romantic composers to conjure up ever more fantastical and technically difficult musical worlds. It also produced a body of work that demanded the creation of a new type of musician: the virtuoso, whose job was pianistic shock and awe.
Today's virtuosos and super-virtuosos, however, are reluctant members of the club. Many of the younger generation are shunning the repertoire and the older ones are shunning the label. So why are pianists wary of being associated with this tradition?
Hamelin is one who is not happy with the tag. It has led to people thinking of him as a mere "finger-merchant", he says, with little more to offer them than digital wizardry, which he blames on YouTube. "A lot of videos have been posted of me that I really don't like. They're old and the tempi weren't really controlled," Hamelin says wearily, "Maybe some people like
them. But I think they've done me harm."
Stephen Hough is more unabashed. He's one of very few pianists, alongside Hamelin, to keep alive the virtuoso tradition of the pianist-composer, almost always programming an impressively high-wire transcription of his own in his concerts (in his forthcoming British tour it's his dizzying arrangement of the Bach Toccata and Fugue in D minor). As jaw-dropping as all this flashiness might seem, however, a lot of the showiest works by Liszt and Vladimir Horowitz, he says, actually impress by a sleight of hand.
"They're full of shortcuts, full of what we might call faking," he says. "Horowitz, for example, left out thousands of notes that the ear can never catch. That's because the notes that he did play were delivered with such rhythmic conviction that it almost sounded as if he was playing more notes. It's one of those aural illusions."
Like the 19th-century virtuosos, however, Horowitz was also acutely aware of the audience, says Murray Perahia, to whom Horowitz was a teacher and friend. "He said that he exaggerated for audiences because was always cognisant of the audience and he wanted to feed it to them, so to speak," Perahia says.
For the early-19th century virtuoso the show was everything. The dashing Sigismond Thalberg, who, according to Chopin, "pleases the ladies very much", would perform immaculately turned out, groomed and coiffed, always sporting studs with diamonds. His arrival on the scene in the 1830s at the height of Liszt's fame ended in a showdown, a piano duel, in 1837 in Paris. Each performed one of their own fantasias to a packed audience. No knockout blow was landed but admirers were likely to have been won over by these spectacles.
It wasn't all smoke and mirrors, however. To some technical extent these pianists were, digitally speaking, superhuman. "There are endurance issues with very loud, fast octaves," Hough explains. "When you play big chords your hand is stretched out so the muscles are already slightly tight on the palm of the hand. So if you keep it in that extended position the muscle is going to go into spasm." Physical demands are one reason why pianists today rarely take on the most demanding repertoire. Another is the perception that these pieces are lightweight so the performer might also be, in some way, intellectually or emotionally, lightweight too.
The veteran American pianist Leon Fleischer, who lost the use of his right hand in his twenties (now 81, he recently made a spectacular return to two-handed playing), in part blamed his injury on the acrobatic challenges of practicing virtuosic scores. It's a danger that he says the younger generation must guard against. "You get kids today who can do things with such extraordinary brilliance on the keyboard that they belong in the circus," he recently commented. "But it ain't got nothing to do with musicmaking."
The standout example of these brilliant young things is the Chinese sensation Lang Lang, whose piano acrobatics leave a screaming mob of delighted fans (many of them female) and a chorus of furious critics behind him wherever he goes.
For Hamelin and Hough the virtuosity is always focused on the musical and intellectual elements rather than the technical challenges or theatrical possibilities. "When you realise the musical substance in [Alkan's] works you realise that you cannot treat them as simple Everests," Hamelin explains. "Even if you play all the notes, you haven't done anything with these pieces."
Hough agrees. "In terms of the sheer movement of fingers and playing lots of notes there are literally thousands of students, particularly in China, who can do it without any thought," Hough says. The real virtuosity comes with colouring, shading and voicing the music's subtlety. "To have every note shaped the way that you want and eight different levels of pedalling working at a time — then you start to see really difficult things," Hough says.
In these terms, the impossibility of an Alkan or Liszt étude or even Kaikhosru Sorabji's four-hour Opus Clavicembalisticum — often cited as one of the toughest compositions of the 20th century — is more than matched by the poetic challenges of a Chopin nocturne or a slow movement from a Schubert sonata. "Liszt's Spanish Rhapsody was difficult," Perahia admits, "but Chopin études are equally daunting. I'm now playing his fourth scherzo. It still scares me a little bit before I go onstage."
But the divide in the pianistic fraternity remains, between those who've taken on the the Lisztian mantle and those who dismiss it as superficial and splashy. "A lot of people since Artur Schnabel feel that you have to make a choice," Hough insists, "that if you start to play virtuoso things no one will take you seriously when you play Mozart and Beethoven. It isn't true. [Being a virtuoso] is about having a sense of fun. It is part of enjoying the instrument."
And, he adds, we must remember that Beethoven was a virtuoso and that Chopin's improvisations were thought to be better than his compositions. As Horowitz once told Perahia, "If you want to be more than a virtuoso, first you have to become a virtuoso."
Marc-André Hamelin is at the Wigmore Hall, W1 (020-7935 2141) on Nov 13. Stephen Hough's UK recital tour opens in Malvern on Nov 28 and continues to Dec 4. Details: stephenhough.com
VIRTUOSOS WHO WOWED THE WORLD
Niccolò Paganini The prototype for any musician aspiring to megawatt levels of celebrity and technical bravura, Paganini toured Europe to wild acclaim — and faced the accusation that he didn't need to practise since he had made a pact with the Devil. His own frenetic compositions are still a benchmark for any self-respecting fiddler, though his solo caprice Duetto Amoroso, apparently depicting the orgasmic groans of a pair of lovers, remains unfortunately lost.
Franz Liszt Piano god to the chattering classes who clustered at his salon recitals (the women paid extra to sit on the concert platform itself). No doubt influenced by Paganini's style and cultish appeal, Liszt shrewdly cultivated his own fame factor, in part because of his background as both composer and journalist: he played his own fiendish transcriptions at his recitals, and then sent rapturous reviews to the newspapers in the city he was touring to next.
Farinelli Not as familiar to audiences in Georgian London as some of the other great castrati, but still the most notorious, glamorous and virtuosic castrato of the Baroque era. "His intonation was pure, his trill beautiful, his breath control extraordinary and his throat very agile," read an early review, which also attested to the singer's phenomenal range: reaching from the A below middle C to the D two octaves above.
Giuditta Pasta The legendary soprano and creator of such wildly contrasting roles as Bellini's Amina (La sonnambula) and Norma was also famed for her dauntingly wide vocal range, but it was the expressive quality of her voice that truly distinguished Pasta's brand of virtuosity.
John Ogdon The British pianist won the London Liszt Competition in 1961 and embarked on a glittering if erratic career, specialising in the murderously difficult pieces by composers such as Alkan, Rachamninov and Scriabin. But perhaps his most astonishing feat was playing and recording the four-hour Opus Clavicembalisticum by Kaikhosru Shapurji Sorabji, almost certainly the longest piano piece in existence.
Pablo Casals The fiery Catalan reached a peak of perfection in his 1930s recordings of the Bach cello suites. Also famed for less rarefied pursuits: he was 80 when he married for the final time, to one of his twenty something students. Begged by his friends to be careful on his wedding night, in case his exertions proved fatal, Casals's response was typical: "If the girl dies, she dies."
Neil Fisher

Igor Toronyi-Lalic | November 6, 2009
Weblink: entertainment.timesonline.co.uk/tol/arts_and_entertainment/music/classical/article6904982.ece