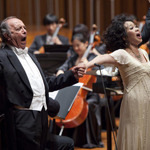 BEIJING—When Italian opera star Leo Nucci set off in 2009 on his first-ever working visit to China, he concedes he felt a measure of excitement.


"I'd heard about the passion for opera that was just starting to emerge in China," says Nucci. "Some of my colleagues had been there."
Their reports, however, were no preparation for what Nucci was about to encounter.
As he and soprano Desiree Rancatore finished the aria that closes Rigoletto's third act, the audience inside Beijing's opera house erupted with applause.
And it would not stop.
After several deafening minutes conductor Donato Renzetti finally signalled to the performers to do the aria all over again, for pure pleasure — on the spot.
And so they did, to yet more rapturous applause.
In 40 years of performing, the 67-year-old Nucci confides, he had never felt anything like it.
"The reaction of the people, the entire house on its feet, my name being called out in Chinese — honestly, it made you feel like a rock star," he says, in his glowing baritone.
"This was one of the most powerful and moving moments I have ever felt on stage."
It was also a clear signal that western opera has arrived in China.
It might not yet have the broader appeal it enjoys in New York, London or Toronto, or in the capitals of continental Europe.
But it has established a foothold here, one from which the Chinese government believes it can climb to international heights.
In fact, officials here say they want to establish Beijing's glittering, new, $350 million National Center for the Performing Arts (NCPA) — known as "The Egg" because of it shape — into one of the world's top venues for opera.
With its booming economy and soaring social status, China appears to have the money, the confidence and a plan to make it happen.
The Egg, a gorgeous glass and titanium structure designed by French architect Paul Andreu that opened in 2007, already boasts the largest and most technologically advanced opera stage in the world: it can slide, spin, and twirl in a computerized instant.
Now, China is busy cultivating world-class talent.
"It is our hope that performers who sing today at The Met in New York, the Royal Opera House in London and La Scala in Milan will some day frequent our own opera house here in Beijing," says Li Zhixiang, who oversees the NCPA's Department of Programming. "I think the NCPA will become — as Mr. Nucci has said — a permanent fixture on the international opera circuit."
Every day the NCPA is doing every thing possible to make that happen.
It is working closely with major European production companies, many of whom have been invited and performed here.
It has befriended top names from around the world, like Nucci — now a repeat visitor — as well as former New York Philharmonic conductor Lorin Maazel, American director Francesca Zambello, and others.
And it is also wooing home top Chinese talent from abroad, including musician Han Xiaoming from Germany to manage the NCPA's orchestra, and — the most famous Chinese name in international opera — Zhang Liping.
Zhang, who migrated to Canada in 1989 following the Tiananmen Square protests, made her professional debut in Vancouver in 1990. After moving to Europe in 1997 she enjoyed leading roles in all of Europe's major houses.
Now, after 20 years abroad, she has been lured back to her alma mater, China's Central Conservatory of Music. Her task: to groom the next generation of Chinese western opera stars.
Zhang still credits Canadian mezzo-soprano Phyllis Mailing, director Irving Guttman, and Canada's Young Artists Program for helping her at a critical stage in her life.
She went on, in 2004, to become the first Chinese citizen ever to perform in a leading role at the Met, as Cio-Cio San in Madame Butterfly.
But the pull to return home was strong.
"There are more opportunities in Beijing and China now," she says. "And I'm really pleased to see such a major marketing effort underway, and the fact that more Chinese people are taking an interest in opera.
"But," she cautions, "we're still at the very beginning. There is so much more to do."
China already has an undeniable interest in western classical music: an estimated 40 million children study piano in China. An additional 60 million others study violin.
But for their parents, Western opera is still not a natural sell.
When one speaks of "opera" in China, it still means "Peking Opera."
The key challenge in the short term, says Zhang, who was born and raised in the city of Wuhan, is to draw these people into the theatre.
"I myself grew up on Peking Opera," she says. "My farther loved it and when I was young he always took me to see it."
But one day when she was about 12, Zhang recalls, someone lent her an audiocassette of Giuseppe Verdi's La Traviata.
"I think it was with Joan Sutherland," she says. "I remember that moment vividly and how the sound just touched my heart, deeply. I was sitting there in tears and my sister came and asked, 'What's wrong? What happened?' And I said, 'Just listen.'"
It was a moment that changed Zhang's life. She had to find out, she says, "what this music was all about."
The NCPA, of course, can't count on musical epiphanies. Instead they're focusing on education, trying to cultivate a taste for western opera, the main vehicle of which is an annual "Beijing Opera Festival" of high quality performances from the western canon.
The theatre stages operas all year round, but from April to July the NCPA turns into an almost non-stop celebration of opera, and the festival has proven a hit with Beijingers.
The festival also highlights some traditional Chinese opera and, usually, a totally original NCPA production.
But as with so many Chinese ventures — the operatic art included — it is China's capacity to open its doors, invite others in and collaborate with them to learn the art and craft of other cultures.
Li Zhixiang says the NCPA is taking a three-phase approach to developing western opera in China, in which China first learns while working with others, then collaborates with them more as partners — making adjustments to adapt to Chinese conditions — and finally emerges in stage three as an independent producer of western opera.
And, as with much else in China, there are always cost savings to be had here.
When the Teatro Regio di Parma was coming to produce Rigoletto in 2009, the Chinese produced both the settings and the costumes in China for the Beijing performances.
"We saved some money," says Li. "To produce them in Europe would have cost 500,000 Euros ($675,000). But we produced them here for slightly more than 100,000 Euros ($135,000) . . . and we can keep the sets and costumes and continue to use them."
Li speaks with obvious passion for opera.
He was there the night Leo Nucci conquered Beijing.
"I think all of us could feel his happiness," says Li. "It didn't really matter if you were a fan of opera, it didn't really matter whether you liked opera or not. But if you were there that night, you had to love his performance. You couldn't help but be moved."


Bill Schiller | November 28, 2010


Weblink: http://www.thestar.com/