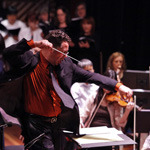 In 1999, when Paul Kellogg, then the general and artistic director of New York City Opera, inaugurated the VOX project, a laboratory for new American operas, he asked George Steel, the executive director of the Miller Theater, to host the workshops there. The idea was to present sizable excerpts from new and recent operas, and in some cases works in progress, in concert performances.


Mr. Steel, who had made the Miller Theater a hotbed of contemporary music, embraced the project. VOX was so successful that it moved to larger spaces for its later annual workshops.
In a fitting turn of events, on the evening of April 30 and on last Saturday afternoon, Mr. Steel, now the general manager and artistic director of City Opera, was the enthusiastic host for VOX 2010 at the New York University Skirball Center for the Performing Arts. Excerpts from 10 diverse works were performed by the City Opera orchestra and chorus and an impressive roster of solo singers. Although these were essentially workshop tryouts, the performances were generally assured and effective.
It usually requires a leap of faith for an opera company to present a new piece. VOX offers both impresarios and opera buffs an opportunity to sample new operas in performance. Mr. Steel was closely involved in selecting the works performed. So far VOX has had a notable record of success. Of the more than 100 operas presented through 2009, some 40 went on to full productions at various companies, including the Los Angeles Opera, the Washington National Opera and (four times) City Opera.
The question "Why write an opera?" was posed to every composer and librettist, who answered it in program notes and sometimes in the video introductions screened before each performance. But to judge from this year's works, a more pertinent question might have been "What is an opera?" Several pieces upended traditional concepts of the genre. The first two on April 30 showed the range of what was to come.
"With Blood, With Ink," by the composer Daniel Crozier and the librettist Peter M. Krask, had its premiere at Peabody Conservatory in Baltimore in 1993. It has had subsequent student performances, but still awaits a professional staging. The story is drawn from the life of a 17th-century Mexican nun, Sor Juana Ines de la Cruz, a poet, intellectual and advocate for women's rights, who was forced by the church hierarchy during the Inquisition to sign an oath in blood renouncing her work.
In a particularly effective scene, the dying Juana (Kerri Marcinko), in a feverish state, sang an imagined duet with her younger self (Michelle Areyzaga). Driven by Mr. Crozier's harmonically lush, lyrically soaring score, "With Blood, With Ink" emerged as a basically traditional opera.
"Zolle," which followed, with music and libretto by the composer Du Yun, was as much a dramatic concert work as an opera. In this mystical piece, a dead woman wanders a shadowy realm between memory and reality, feeling like an outsider, an immigrant, in life and in death. The composer cites far-ranging influences, from mournful Portuguese folk music to Japanese Noh Theater to Laurie Anderson.
Most of the libretto was spoken by a narrator, Hila Plitmann, while a mezzo-soprano, Hai-Ting Chinn, performed a melange of wordless, amplified vocal sounds: plaintive ahs, restless stutters, warbles and wails.
Whether this piece is an opera will matter, or not, to different listeners. Video images added an abstract scenic backdrop. I was intrigued, but not convinced that staging it would add much.
Hearing 10 new works in two concentrated helpings is an overload for the senses. The most unconventional piece was "Inventory," with music by Brian Current and a libretto by Anton Piatigorsky, a 10-minute monologue for a young woman at a shoe store whose mind wanders as she does an inventory of shoes with wonderful names, like Mai Tai Nutmeg platform wedges. Here the mostly slow-moving, prolonged vocal lines were set against a frenetic instrumental background.
The most ambitious work, with extended choral scenes and multilayered orchestral music, seemed to be "Revolution of Forms," composed by Anthony Davis and Dafnis Prieto (who injected the score with Latin-Cuban rhythmic elements). The opera is based on the true story of a Cuban architect, Ricardo Porro, who was hired by Fidel Castro to turn the Havana Country Club into a campus of arts schools, a project later condemned as elitist.
"A Star Across the Ocean," with music and libretto by Scott Davenport Richards, was another boldly multistylistic piece, about an interracial family exploring the heritage of black Americans in Paris.
Michael Gordon's "Acquanetta" was inspired by a 1943 cult-classic horror film, "Captive Wild Woman." With a libretto by Deborah Artman, the opera turns the story of that campy film's star into a somberly ritualistic meditation on public versus private identities.
The works that consistently pulled me in were those whose scores pulsed with music that had some profile, complexity and daring, whatever the approach to operatic storytelling. "Song From the Uproar," with music and libretto by Missy Mazzoli, was one example, inspired by the journals of Isabelle Eberhardt, a Swiss explorer who traveled on horseback through North Africa. A journalist and hopeless romantic, she briefly fell in love and died at 27 in a flash flood. The score moved in large musical blocks alive with hints of plush Romanticism and hard-driving electronica.
It may be premature to assess an opera fully from a concert performance in workshop, but "Oceanic Verses," an overblown and soupy rumination on Italian folk rituals by the composer and librettist Paola Prestini, made "The Lion King" seem a work of subtlety and taste in comparison.
"Dog Days," a black comedy with music by David T. Little and libretto by Royce Vavrek, was dramatically wild and at times exhilarating, a post-apocalyptic story about a family of five. The young daughter adopts a dog, which seems to be a young man in a costume. Mr. Little's rustling, raunchy, eclectic score showed real imagination.
Credit goes to the accomplished conductors who shared duties here: Steven Osgood, Scott Dunn, Carolyn Kuan, Robert Trevino and, especially, Julian Wachner, who conducted two works and was also the composer of one of the operas, "Evangeline Revisited."


Anthony Tommasini | May 7, 2010
Weblink: http://www.nytimes.com/