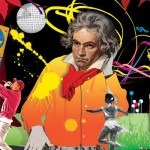 The cream of British talent suggest how they would transform the traditional concert for a new audience.
It's almost akin to a papal pronouncement. On Monday the world's most influential classical music critic, Alex Ross, will deliver the annual Royal Philharmonic Society lecture to the assembled cognoscenti at the Wigmore Hall in London, entitled Inventing and Reinventing the Classical Concert.


Ross's book The Rest is Noise, a provocative assessment of 20th-century music, was shortlisted for a Pulitzer prize in 2008. Now he is turning his gaze on the concert experience itself. In the US, where Ross writes on classical music for The New Yorker, orchestras are under more scrutiny than ever, facing declining revenue and ageing audiences. The time has come, Ross says, to rethink the way that Brahms, Beethoven and Bruckner are presented.
Plenty of rethinking has already gone on in the UK. The Southbank Centre encourages cross-genre events, recently supporting Anna Meredith's new concerto for beatboxer and orchestra. The Barbican puts orchestral scores to films — on Monday night a screening of Mikio Naruse's 1933 silent film Nightly Dreams had a soundtrack by Nitin Sawhney. And the Roundhouse's Reverb series in January, which introduced classical music to a pop venue, played to packed houses. So what is the best way to reinvent the concert? We asked Britain's classical taste-makers to tell us what they think Ross should say.
Roger Wright, Proms director and controller of BBC Radio 3
Our late-night concerts at the Proms, where we do an hour of music from 10pm, have been really popular. You don't have to rush to get there and you've had a chance to pick up a sandwich, so you're not suffering from indigestion. You don't have to worry about getting home afterwards because it's not that late. Some of the most magical things at the Proms, such as Messiaen's Quartet for the End of Time in 2008, have been at this time. There should be weekend coffee-morning concerts and rush-hour concerts and lunchtime concerts at venues throughout the year.
John Gilhooly, director of the Wigmore Hall
I'm 36 and I often ask my peers why they don't come to more concerts.
Are they put off by the format? Do they think concert halls are too stuffy? "No," they reply in no uncertain terms. They just work long hours and then can't find a child minder. Experimentation is a very good way of occasionally reaching out to new audiences, but it should not be made the norm. Audiences want to experience high-quality traditional events in a world that is already dominated by experimentation and celebrity. There is no need to tinker too much with a system that works.
By maintaining quality and consistency we can maintain the long-term future of the species.
Svend Brown, artistic director of Glasgow Concert Halls and the East Neuk Festival
They built a fantastic concert hall here in Perth in 2005 to replace a drafty Victorian hall. Suddenly an orchestral series that had been ailing for years was selling out. The building created a buzz, it made the audience feel welcome, it was comfortable, there were nice bars. There is also a hunger for unconventional spaces. The East Neuk Festival is in a part of Scotland that's rich in history but lacking in arts venues, so we make a virtue out of spaces we can lay our hands on. In the past few years we've used a nuclear bunker, a meadow, a cave, a woodland dell, a harbour-side bench, a Scout hut, a hangar and a barn. The events have had a novelty but also a depth and an authenticity because of the landscape.
One of my desert-island memories is hearing Paul Hillier's ensemble Theatre of Voices singing Stimmung in a concert hall in the north of Norway. The audience had travelled through deep snow or by boat to be there. They were lying on their backs, zoning out and listening with an intensity I have only rarely encountered: the combination of weird and apt was unforgettable.
Matthew Barley, cellist
Different audiences need different approaches. I did a concert in Winchester prison three years ago to 40 hard-bitten offenders. As soon as I was in the room I realised that if I just started to play my cello there was no way I was going to win this lot over at all — they were tough. I sat there for a few seconds with my heart in my mouth wondering what to do. Then somebody in the crowd looked at my computer set-up and asked what software I was using, so I began talking about music technology and demonstrating how it worked.
I ended playing solo Bach. A guy at the back in his sixties had tears running down his face. "I never knew something so beautiful existed," he said. He wasn't aware of that type of music. He'd never seen a cello in his life.
Gabriel Prokofiev, classical DJ, composer and grandson of Sergei
The current concert format is old-fashioned. It's based on rules devised by the bourgeoisie at the turn of the 19th century to protect and elevate their culture. They tried to make it this semi-religious experience, sacred and serious. But in Mozart's time concerts were more informal: Mozart expected one movement to be played, he didn't expect a perfect rendition of the whole symphony. I know plenty of people who feel intimidated by a classical concert. They feel as though there's some sort of code, some sort of language they're just not worthy of knowing. I went to the ballet to see Romeo and Juliet, by my grandfather. I'm not joking, I turned up a minute late and they wouldn't let me in. I missed the whole of the first act. That's part of the formality of these kind of events. Why do they start at 7.30pm? For the past six years I've been running classical club nights upstairs in the Horse & Groom pub in Shoreditch, East London. The live music doesn't start until nine o'clock. There's a DJ between acts, people can have a drink and chat. If they don't like the piece they can move to the bar. It's what people are used to at pop gigs. We're reaching out to a younger audience.
Marcus Davey, chief executive of the Roundhouse
Authenticity is essential. If you're doing Mahler's First Symphony don't put a rock band in the first 20 minutes just because you think it would engage a younger audience. Just play it as it is. It's a great piece of art; if we're ashamed of a work, why do it at all? The aim of the Reverb series was to bring a younger audience to classical music — and did we get a younger audience! The average age was 30 to 35. At the end everybody was hugging each other, going: "That's the most amazing thing I've ever seen." It was because we said you don't have to follow normal concert protocol: you can clap between movements, you can take a drink in, you can do what you like, just relax into it. We didn't reinvent the music at our concerts, we reinvented the way you might feel when you go to them.
James Rhodes, pianist
It's all about me communicating with the audience as one of them, not as a lecturer or an academic. At the moment you go to a concert, the guy comes on, barely glances at the audience, bows, sits down, plays and then leaves. It's like the audience is down there and the performer is up here and there's this huge barrier between them. Musicians should be seen as just like anyone else. When I played at the Roundhouse at the end of last year I told a few jokes to break the ice. I like to talk about what the music means to me, rather than have the audience read something written by some Oxbridge academic 40 years ago about sonata form that doesn't mean anything to me, let alone to them. I'll hang out in the bar afterwards. Music deserves to be shared; it's about that.
Nicola Benedetti, violinist
Much too often the hall is lit as though you're in a dining room: it's unatmospheric, unromantic and unartistic. Bright lighting is laziness. If you're sitting halfway up the hall in the audience it's even worse: you're seeing everyone to the left, to the right and in front of you as much as you're seeing the stage. It's distracting. I've heard people say that if the light's too low you can't read the programme, but you shouldn't be reading the programme while the music's being played, you should be focused on what's going on onstage.
Graham Sheffield, artistic director of the Barbican
We are in a visually led age, but there's often merit in classical music being mind-led rather than eye-led. Occasionally it is worth experimenting, partnering pictures with music, but what ultimately counts is the quality of the music. No amount of digital wizardry can substitute that live experience.
In many cases a bit of loosening up of the audience would help the atmosphere. Until recently people who clapped at the end of a movement were looked at as though they were an alien species. But if the music calls for a response, a smattering of applause is fine. You're going to get some coughs, so why not have a few claps as well?
Anna Meredith, composer
It's great to be creative and not necessarily stick to convention, but there's definitely a place for concerts as they always have been. Experimenting for the sake of it is as bad as not experimenting because you're scared of it. You've got to consider whether presenting the programme in an unusual way will highlight the music or is just gimmicky. For anyone worried that my beatbox concerto is an orchestral piece with a beat underneath it, it's not. I treated the composition as though I was writing a violin concerto. I'm happy mixing genres — as long as the piece is the most important thing, then that's fine.
Nitin Sawhney, producer and composer
I want to be constantly pushing boundaries. I see every tradition, including classical music, as dynamic. As long as you respect the form and work cohesively with what you have to add to it then it can only be a good thing to play with it.
Gillian Moore, head of contemporary music, Southbank Centre
We should be bold in allowing music to resonate with other art forms because music has become abstracted: Masses and requiems have become divorced from a religious context and we have dances where we don't dance. After the 3-D digital version of Stravinsky's Rite of Spring that Klaus Obermaier did for us at the end of last year somebody said to me: "All that dance distracted me from the music." I wanted to say: "It's a ballet, for God's sake! It's a ballet!" How did we get to this state where you can't dance to ballet?

Laura Silverman | March 4, 2010
Weblink: entertainment.timesonline.co.uk