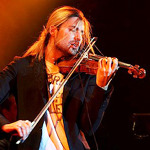 I STARTED playing the violin when I was four. I became pretty good just from listening to my older brother play, and my parents realised I had talent. With regular tuition from very good teachers, I was playing in concerts by the time I was seven, as a soloist in an orchestra at nine. I got my first management at 10 and was signed to Deutsche Grammophon at 11 – their youngest ever artist.


Soon after leaving college I finally bought an instrument of my own. I'd been playing for years on a Stradivarius that had been lent to me but people often approached me saying, "I have this wonderful instrument, do you want to try it?" One day, I was offered a 1772 violin made by Giovanni Guadagnini, an alumnus of Stradivari, which was for sale. I knew immediately it was better than the one I'd been playing, and said, "How much?"
It was the better part of £1 million ($1.5 million). I took out a loan and paid it off over many years – the fees from every concert I played went straight into paying for the violin. It soon became an extension of me. To sustain the level of performance that is expected, I spend more time playing my violin each day than I do sleeping. I had to learn about its positive and negative characteristics, and how to work with them. It was almost like being in a relationship.
I made the last payment in December 2008. I felt I had finally, truly arrived as a violinist – the Guadagnini was mine.
My last booking of the season was at the Barbican arts centre in London two weeks later, playing a Mendelssohn concerto with the London Philharmonic Orchestra. It was a triumphant end to the year. My brother, sister and parents were in the audience, and afterwards we planned to have dinner together in town before flying to Germany for a family Christmas.
I was only needed during the first half of the bill, and in the interval I put the violin in its case, strapped the case on like a backpack and hurried out of the hall to meet them in the car park.
It had been a rainy day and the steps leading to the car park were wetter than I realised. Still wearing my flat-soled concert shoes, I lost my footing and took the entire flight on my back in classic slapstick fashion, riding the violin case like a sledge.
I didn't get up immediately. My family rushed over to check on me, but at that moment I didn't care if I was hurt or not – my only thought was for the violin. I'd landed with all my weight on the case, which I'd bought because it was lightweight and comfortable, rather than robust. Even as I opened it, I knew the violin couldn't have survived, but seeing the damage was horrifying – the body was cracked all over.
I didn't shout or cry, I just stared. I was in shock. Some moments in life are almost impossible to grasp – surreal. I was in a state of disbelief.
I must have sat there for 10 or 15 minutes. Finally, I called a violin-expert friend and asked him to come straight over and tell me the worst. He took one look at the Guadagnini and said: "The most important thing, David, is that you're all right. Whatever happens to any instrument, it is fixable. It may never sound quite as it did, but you're still young, and there will be other violins in your life."
He was right, but I still felt as if I'd lost a friend. The repairs took seven months and cost £60,000. Thankfully, it was insured. In the meantime, I used borrowed violins, including a Stradivarius that came with its own security team. They were beautiful instruments, but never felt quite right. Knowing my time with them was finite, I had to keep a sense of emotional detachment. I couldn't allow myself to fall in love.
Then, about a year ago, I got a call from my dad. He had spoken to the owner of a beautiful Stradivarius, who was interested in selling it. When I tried it, I took no more than three seconds to make up my mind. It was love at first sight.
There is no guilt. I still play the Guadagnini sometimes, and I'll always have great affection for it. I sometimes even wonder if it saved my life – had it not been strapped to my back when I fell, I doubt I'd have walked away as I did. But if I hadn't broken it, I might never have found love with the Stradivarius. This is the real deal. I've bought a better case for it, of course, but I won't be taking any risks. If I broke this one, I would undoubtedly cry.


David Garrett | April 25, 2011


Weblink: http://www.smh.com.au/