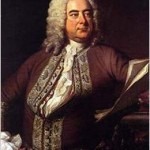 Ever wonder what kind of penmanship George Frederick Handel had? Was he the type to cross things out with a single, swift stroke, or did he cover up his mistakes in a scratchy flurry? Well, wonder no more.


In the latest addition to its collection of high-resolution "virtual books," the British Library has uploaded images of the draft score of Handel's "Messiah," scribbled onto 280 pages in the summer of 1741. Clicking page by page, you can zoom in on every repetition of "prince of peace" and follow his notational shorthand, or zoom out to see the full picture of ink splotches and vigorously crossed-out typos. There is also audio about Handel and the manuscript, and of the music itself.
Also viewable on the museum's Web site: William Byrd's "My Ladye Nevells Booke," recorded by a friendly scribe in 1591, and Henry VIII's psalter of 1540, with the king's own marginal notes.

Ben Sisario | December 17, 2009
Weblink: artsbeat.blogs.nytimes.com/2009/12/17/handel-at-work-a-virtual-look-at-the-original-messiah-score/