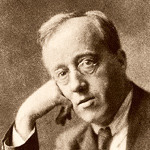 LONDON – Gustav Holst was far from being a one-hit wonder, but ask most people to name many works other than "The Planets" and they will hard pressed to think of any. At the same time, "The Planets" has been such a blistering success that familiarity has bred, if not contempt, a lack of appreciation for its depths as a work. That is the thinking behind a new film by Tony Palmer, "In the Bleak Midwinter," named after Holst's popular hymn tune.


The film was previewed at the Barbican Center on 12 April and will air on BBC Four on Easter Day. A DVD release will be available shortly.
Tony Palmer has quite a reputation for digging beneath the surface of his characters. His 2008 film "O Fortuna," looking at the Nazi allegiance of Carl Orff, caused a fit of the vapors at the Orff Society. But he is not so much interested in shock revelations as in filling in the blank spaces of his subjects.
Nevertheless Palmer lays claim to a revelation with Holst that the composer hated what was to become his global anthem. When a tune buried within "The Planets" became adorned with words to become "I vow to thee, my country," it created an all-time hit that happily adorns everything from civil ceremonies to dodgy compilation albums. Palmer kicks off his film with a selection of nausea-inducing versions. (Kiri Te Kanawa is the worst offender.)
He makes the point that Holst was far removed from establishment-loving patriotic fervor, but was in fact an ardent left-winger who devoted his life to bringing music to the working classes and campaigning for socialism. This did not stop him from taking a job at an exclusive private school for girls for 25 years, but Palmer claims that in the early years of the 1900s, an academic school for girls was sufficiently revolutionary to enable him to square his conscience.
Holst's socialist leanings were repeatedly emphasized, as if we might not quite believe it unless we were given the message over and over again. Yet in a film of more than two-and-a-quarter hours, one vital aspect seemed to be almost entirely absent. While we were given a far fuller picture of Holst than anything we had encountered before, we came away none the wiser about his personal life. Much is made of the fact that he lived on a street of "dancing ladies" during a spell in Algiers, yet we have no vision of his own sexual and emotional nature.
There is no mention of his wife. The only family ties are the archive footage of his daughter Imogen (touching and amusing) and the revelation that his brother was a Hollywood actor (cue scene with the young Ronald Reagan). But for a man who wrote so much dramatic and passionate music, there is nothing to suggest what stirred him, other than politics. This makes the film a curiously unemotional affair, despite its rich fund of great music.
In the end it is the music that carries the day, and Palmer introduces us to many unfamiliar works – some still not published. And if the success of the film is to be judged by whether it makes us want to go and listen to more, then it is a winner.


Keith Clarke | April 15, 2011


Weblink: http://www.musicalamerica.com/
Photo credit: http://en.wikipedia.org/