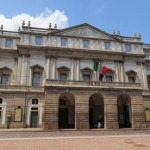 With opera house attendances falling alarmingly, venues such as La Scala in Milan are trying to titillate and lure the young


The image appears to come straight from a horror movie. A woman cries out in pain and anguish, her cheek streaked with blood. Behind her, figures perform an elaborate dance of death. In letters of crimson red, the tagline screams: "Two fell in love, the others massacred one another."
Welcome to opera at La Scala as it has never been presented before. As ticket sales fall at Italy's historic opera houses and government subsidies dwindle, the most respected home to Italy's most cherished art is resorting to shock tactics, risking the predictable wrath of Italy's conservative opera establishment.
The poster, featuring German mezzo-soprano Waltraud Meier in the forthcoming production of Wagner's Tristan und Isolde, can be seen all over Milan, on trams and in the streets. The lurid image, and others like it, are part of a concerted drive to excite, titillate and intrigue the market on which La Scala's future survival depends: the young.
"Cruelty, suffering and betrayal – you decide if you can feel it," suggests another poster, featuring a prostrate female performer in a see-through shirt.
"This campaign challenges the idea that opera is difficult, boring, old and not for mere mortals, especially poor ones," said Donatella Brunazzi, the brain behind the new strategy.
It follows a trend that began in Florence, where the Teatro del Maggio Musicale Fiorentino put Verdi's face on the side of a tin can in recent Warhol-inspired adverts for La Traviata. "High emotional content," says the lettering on the can. "Prepare with tears and kisses."
Francesco Giambrone, the general manager at the Florentine institution, said he wanted to grab the attention of people who would rather watch Big Brother than Bizet. "We did not want to simply target the traditionalists who think you just can't do La Traviata any more because Maria Callas has gone," he said.
The "rebranding" has all proved too much for traditionalists such as Italo-French opera director Denis Krief. "You don't sell opera like a pair of jeans," he said. "There is a huge difference between show business and culture." Mauro Meli, the general manager of Parma's Teatro Regio, is similarly indignant. "Here in Parma people are traditional, and our advertising must be sober," he said. Posters for this season in Parma feature a traditional portrait of a forbidding Verdi, "who looks down on us, judges us and pushes us to do better", he added.
Whatever the merits of the shock tactics, Italian opera badly needs new blood. While six million Italians attended a pop concert in the first half of 2009, only 936,000 took in an opera. More alarmingly, that was 60,000 fewer than the year before, a 5% drop, outstripping the 2% fall in theatregoers.
The decline comes as La Scala waits to hear whether it will be hit by a cut of €7m (£6.25m) from the annual state subsidy it receives, which in turn makes up about half of its €110m total revenue.
And the message from Milan and Florence is that youthful, sassy rebranding is working.
Last year, Giambrone launched a discount card for the under-26s that helped to sell out a 15-day marathon of Tosca, La Bohème and Cavalleria Rusticana, promoted by billboards reminiscent of a 1950s Hollywood film poster, complete with a smooching couple.
"We sold 30,000 tickets, which were priced at €10 for cardholders, and a lot of the first-timers then came back to see the Wagner later in the season," he said. "When I got here in 2006, we were filling 60% of seats; now it's up to 80%."
La Scala knew that it was on to a good thing when it sold out a preview for its season opener, Don Carlo, last year, even though tickets were available only to the under-30s.
This year, with its Facebook site now numbering 15,000 members, La Scala repeated the idea and sold out all tickets within two hours for an under-30s preview of Bizet's Carmen.
The general manager, Stéphane Lissner, said he had no qualms about welcoming opera novices into La Scala. "Leonard Bernstein once said: 'When I hear applause in the wrong place, it doesn't annoy me, it tells me there is a newcomer.' "
Giambrone said that he was getting used to hearing clapping in the wrong moments in Florence. "But that is when the emotion rises. We even did an encore last month because the crowd would not stop clapping, and that is often considered really vulgar," he said.
"Encores are a throwback to the 19th century when opera was popular, when it helped to shape Italy during unification, when dialect-speaking Italians would pick up Italian from listening to arias," he said. "Why can't it be like that again?"

Tom Kington | November 8, 2009
Weblink: www.guardian.co.uk/music/2009/nov/08/la-scala-opera-milan-posters