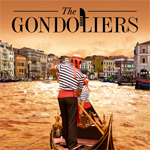 A group of gondoliers could be making a splash in the charts after music bosses took a punt by signing them to a major deal.


The Italian trio swapped the canals of Venice for the banks of the River Thames to sign up with music giant Universal Music.
Luca Foffano, Michele Bozzato and Michael Malvich – who will record under the name The Gondoliers – normally perform to customers in their home city, but are now set to release an album of romantic songs.
And the deal will help to finance restoration work in Venice, whose architectural splendour has long been under threat as it sinks into the surrounding lagoon. Some proceeds will go towards the Venice In Peril fund.
The singers, who dress in traditional outfits of striped tops, red sashes and boaters, are now stablemates of stars such as Lady Gaga, Amy Winehouse and The Rolling Stones.
They celebrated their new album – which was out on March 21 – by serenading passers-by on Tuesday morning.
Executives from the Decca record label headed to Venice last year to audition gondoliers to assemble the finest voices in the romantic city.
The singers – who can count Johnny Depp and Angelina Jolie among those who have heard their voices, while they filmed The Tourist – have provided the soundtrack to numerous marriage proposals on the waterways over the years.
Mark Wilkinson, managing director of Decca Records Group, said: "The smooth, rich, romantic sound of The Gondoliers will set hearts racing – whilst at the same time drawing attention to the serious issues facing one of the world's most beautiful cities."
Nicky Baly, director of Venice in Peril, said: "Environmental issues such as flooding and sea level rise have been brought into the public's consciousness recently, and Venice – a world heritage site – is in great danger from the sea and without constant investment Venice will largely be uninhabitable by the end of the 21st Century."
To tie in with the release of their album, The Gondoliers are planning to do a tour of UK canals.


The Age | February 3, 2011


Weblink: http://www.theage.com.au/
Photo credit: http://www.veniceinperil.com/