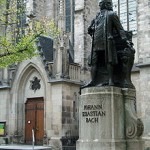 In the German city where J.S. Bach was a choirmaster, Sarie Teichfischer is using music to ease the plight of people in Leipzig who, like her, have lost their jobs. She co-founded and manages the Bohemian Choir, an effort to help the unemployed.

Her city, one of the biggest in the former East Germany, is still struggling to come to terms with its post-communist identity. Leipzig has one of the highest jobless rates in the country that is Europe's largest economy — nearly 15 percent.
Teichfischer, 31, lost her job in publishing two years ago.
"We thought if you bring people together who have the same situation, then things will be much easier to form a social network," she says. "It's really worked out."
She and about three dozen others meet two mornings a week inside a lovely but neglected 19th century stone mansion that serves as an arts and community center.
Three quarters of the men and women in the choir are jobless, and half have been unemployed for more than five years. A few retirees have also joined.
Joining is voluntary and doesn't affect members' unemployment benefits, which in some cases are among the more generous in Europe. For many, the rehearsals provide the structure and human contact they miss from being on the job.
Piotr Selend, who lost his job as a university technician nearly a decade ago, says he once thought about jumping in front of a train.
"But before I made it as far as the tracks, I walked past here and saw a big poster advertising a new choir. It read: 'First rehearsal today. No need to be afraid if you can't sing. Everyone welcome!' " says Selend, 54. "So, I walked into the community center instead of going to the station."
He says the choir makes him feel like he's back at work. "You realize you're needed and you're valued again."
Teichfischer says she gets goose bumps from watching members regain their confidence.
"I see people opening up, and new hairstyles, new outfits, which means the pride is building up again, and the dignity is coming back, and that is the best thing," she says.
She adds that like most of her fellow choir members, she is actively looking for work.
Her only big fear in getting a new job, Teichfischer says, is that she'd have to give up the choir.

Eric Westervelt | April 7, 2010
Weblink: npr.org