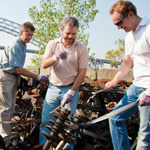 A tall, trim man in chinos and a green checked shirt strode quickly past broken car carcasses, Dumpsters and chunks of unidentified metal.


In his hand were mallets, and in his eye was a gleam for the right pieces of junk to transform into concert-worthy sounds. He stopped at a small pile of gas tanks, and unleashed a virtuoso solo performance of drumming.
The man, Christopher Lamb, is the principal percussionist of the New York Philharmonic, and on this hot day late last month he joined colleagues from the orchestra and the composer Magnus Lindberg at a junkyard in Staten Island in a search for pieces of metal to play this week at performances of Mr. Lindberg's "Kraft."
The work is a giant complicated yawp for orchestra, amplified solo instruments and percussion — plenty of percussion. The soloists, including a cellist, a clarinetist and a pianist, are also drafted into playing the percussion instruments, many spread around the hall.
Mr. Lindberg requests that orchestra members go to a junkyard in the area of the performance and pick out found instruments. "It's part of the tradition of the work," he said, while being driven out to the junkyard in a black Suburban stuffed with Philharmonic officials. "It has to have a local sound."
Mr. Lamb; Daniel Druckman, the associate principal percussionist; and Markus Rhoten, the principal timpanist, followed in a minivan.
The piece, completed in 1985, has had two dozen performances. Its performers and Mr. Lindberg have visited scrap heaps in places like the Waterloo area of London; St.-Denis, outside Paris; and Porto in Portugal. "I've always been amazed at the number of performances it's had, given the complexity," Mr. Lindberg said.
The Philharmonic is playing "Kraft" at Avery Fisher Hall on Thursday and Friday and on Oct. 12. It will be the second American performance. The first happened 11 years ago at the Ojai Festival in California.
Mr. Lindberg, a Finn and the composer in residence at the Philharmonic, said his idea was to inject a layer of mostly dry, metallic sounds into the battery of standard percussion instruments, which have a greater resonance. "This is just to add a spice," he said, "a strong chili spice though."
Mr. Lindberg said that in writing "Kraft" he was inspired by the composers Edgard Varèse and Iannis Xenakis; by industrial rock music he heard while living in Berlin; and by the sounds of the city: traffic, demolition and construction.
But the use of found percussion instruments is not new. It has a healthy 20th-century tradition, in the works of Lou Harrison, Henry Cowell and others. Recently a composer in Beacon, N.Y., Joseph Bertolozzi, created a work consisting of percussive sounds made on a Hudson River bridge.
Percussionists, too, are used to fashioning new instruments and tweaking the tools of their trade, and are noted searchers of fresh sounds. Mr. Lamb helped make the instruments he played in Tan Dun's "Concerto for Water Percussion and Orchestra in Memory of Toru Takemitsu," performed by the Philharmonic in 1999.
"We're being creative with junk," Mr. Lamb said about the Staten Island field trip. "You didn't see any cellists go here, or violinists. What section do they always go to when they want something?"
The sound engineer for the "Kraft" performance, Lou Mannarino, whose studio is in Staten Island, steered the orchestra to the scrap yard. It is run by Edkins Auto Sales on Richmond Terrace, opposite St. Mary of the Assumption Roman Catholic Church, in Port Richmond.
The yard was loosely organized. Here was a row of disembodied car doors; there, a line of automobiles without front ends, the engines looking like mangled snouts. Here was a heap of tires; there, a spread of wheel suspensions. The Bayonne Bridge reared up in the background. The Kill Van Kull glittered blue.
Mr. Lamb was all business, moving rapidly from heap to heap. Mr. Mannarino held up a spring coil. Mr. Lamb ran his mallet over it, bringing out a melodious clang. "I need four," he said.
Mr. Druckman looked at a brake drum. "We have that," he said.
Wielding a rusted bolt, Mr. Lindberg whacked a chunk of metal, which responded dully. "This is a good sound," he said.
Mr. Druckman said, "Yeah, take it." He then sent a mallet along a ribbed piece of metal to make a ratchet sound.
"Hey, Magnus, how about that?" he asked. Mr. Lindberg approved. "I know you don't like it, because it's small," Mr. Druckman teased.
The orchestra's assistant conductor, Daniel Boico, climbed into a Dumpster and held up brake rims and brake drums for Mr. Lamb to strike. "You're very good," Mr. Lamb told the conductor. "You're like a junkyard dog."
Mr. Lamb asked what kind of metal plates the composer wanted. "Do you want them ringing or rattling?"
"Ringing," Mr. Lindberg answered. Mr. Lamb was intent on drawing out the composer's wishes. He was a bit frustrated by the sometimes vague instructions in the score.
The musicians also picked out large cylindrical tanks, about five feet tall, with valves at the top, to be cut down to different sizes for different pitches. "I want them for the future," Mr. Lamb said.
At one point they began clowning, whacking objects while singing the Anvil Chorus from "Il Trovatore."
Mr. Mannarino and his assistants began gathering the coils, wheel rims, tanks and other assorted pieces of metal for cleaning and mounting at his studio.
In the trailer that functions as an office, Edkins's president, Ben DiCostanzo, said his yard had been the scene of movie and fashion shoots, but nothing like this. He said he was giving away the metal objects.
After about an hour, the musicians took their places in the cars. An auto-parts customer pulled up and asked what was going on. Told that the occupants were musicians, he said, "What are we singing?"
They are from the New York Philharmonic, he was informed. "Oh, great," he said, and walked away, briskly and without another word.


Daniel J. Wakin | October 4, 2010
Weblink: http://www.nytimes.com/