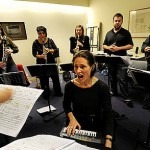 An Australian production aims to be the world's first iPad opera. But is this device an appropriate medium for the lavish artform? Dan Rule investigates.


HELEN Gifford doesn't claim to be tech-savvy. Put simply, the veteran Melbourne composer is of a different era.
"I don't have a mobile phone, let alone a computer," she says with a gentle laugh. "I don't even have a microwave. I find it simpler to live without these things."
The notion that her never-performed work Exile, which had laid dormant in the archives of the Australian Music Centre since she and librettist Richard Meredith lodged the score in 1985, would be commissioned to become perhaps the world's first iPad opera came as a surprise to say the least, but hardly an unpleasant one.
"Oh, it doesn't worry me at all!" quips the 74-year-old of the production, the musical element of which will be recorded in front of a live audience at Iwaki Auditorium on Tuesday night. "I've even thought I could wander into the Apple office in Camberwell and try to do some catching up."
The work – a collaboration between Melbourne's Chamber Made Opera, multimedia arts organisation Aphids, Amsterdam digital art clique Champagne Valentine and Speak Percussion – defies what many of us might consider a staid medium. After being recorded live with soprano Deborah Kayser, an ensemble of clarinets, percussionists and piccolo, as well as antiquated reel-to-reel recordings of a women's choir and a mandolin guitar from Gifford's own archives, the work will be filmed on location at Point Nepean and digitally recast by Champagne Valentine to create an iPad app that is an "interactive music video".
For David Young, a respected composer and the artistic director of Chamber Made, the production seemed a logical step for a largely traditional medium. "The idea of doing a conventional production was never of so much interest to me," says the 40-year-old, who previously built a reputation for cross-platform performance projects as artistic director of Aphids.
"To us, the idea of making it an online opera is absolutely the future. We want it to have a reach that's as wide as possible … I almost want people to go away after seeing one of our works and going, 'That's not opera!' or 'Why is that opera?' "
Brisbane-born multimedia artist Anita Fontaine is one half of Champagne Valentine and will be responsible for the work's regeneration as an app. She frames Exile as "setting a new agenda with a new type of experience".
"We aren't merely trying to replace opera," says the 30-year-old. "We are enhancing it and extending it into the realms of virtuality."
Young agrees. "You're not going to press start and it plays like a movie," he explains. "It's going to be an environment that is inhabited by Helen Gifford's music and these poetic visuals. You'll be able touch parts of the screen and engage and trigger the work."
Exile's narrative is based on Euripides' story Iphigenia, a myth that fascinated Gifford when she started work on the piece in the early '80s. "Here was a woman who has no real control over her life and has been banished," she says of the protagonist. "This was a woman whose life had been absolutely denigrated by this terrible occupation … It was really quite an affecting story."
But after lodging the score and recording the mandolin guitar and women's choir excerpts in her Kew flat, "real life intervened" and the work remained buried in the archives until May 2009, when Young stumbled upon the opera.
"The librettist and I had to hurriedly begin looking back at the work and reminding ourselves of it," she says. "When you've put so much into a work, it's often something you want to forget."
But can the iPad do it the justice it deserves? Indeed, is the much-hyped device really a valid platform for the grandeur of the operatic form? Or is this just technology blindly leading culture by the nose?
Soprano Deborah Kayser thinks not. "Wasn't opera always a vehicle for exploring new technologies?" she asks. "It used to be a vehicle for technological investigation and creation in its time, so in a sense this just extends that."
"With opera, you already have a context in your head for what that's going to entail. But this just reappraises opera and what it's about and who it's for."
And for new Aphids artistic director Willow S. Weiland, this is the appeal. "In terms of the iPad, the potential isn't really known yet and that's exciting," she says. "It's part of our challenge to make sure these technologies reach all these different audiences, rather than keeping them only utilised by the few."
Gifford, who will celebrate her 75th birthday as the Exile app launches later this year, echoes that. "My nephew tells me that the iPad is for the technologically illiterate who can't manage the more involved technology of previous things that have come out." Another quiet laugh. "So perhaps there's some hope for me yet."
Exile will be recorded live at Iwaki Auditorium, ABC Southbank Centre, on Tuesday at 8pm. Admission is free. Places are limited.


Dan Rule | June 21, 2010
Weblink:www.theage.com.au