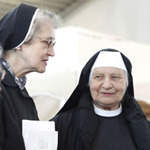 (Reuters) – Benedictine nuns from a secluded convent in southern France have had their prayers answered after beating 70 other religious orders to a deal with Universal Music with the hope of creating a chart-topping album.


"We never sought this, it came looking for us," said Reverend Mother Abbess at the Abbaye de Notre-Dame de l'Annonciation near Avignon. "At first we were worried it would affect our cloistered life, so we asked St. Joseph in prayer. Our prayers were answered."
The nuns, whose album of Gregorian chants is set to be released in November, belong to an order that dates back to the sixth century.
The sisters are neither allowed to leave the convent or receive guests and only communicate with visitors through a grill. "I passed the contract through the grill, they signed it and passed it back," said Dickon Stainer, chief of Decca Records, a unit of Universal, in a statement.
To keep their privacy the sisters will also film their own television advert and photograph the album cover.
The nuns, who beat convents from North America and Africa, join a label that includes the likes of Elton John, The Rolling Stones and convent-educated chart topper Lady Gaga.
The abbess said the nuns decided to record the album hoping it would touch people's lives.


John Irish | July 25, 2010
Weblink: http://www.reuters.com/
Photo credit: http://www.newsoxy.com/