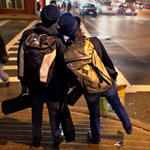 IN New York's classical-music world most of the attention falls on the big boys: the New York Philharmonic, the Metropolitan Opera, the major international orchestras that pass through Carnegie Hall, the glamorous soloists who can earn tens of thousands of dollars an appearance.


But night after night highly trained players traipse from Washington Heights or the Upper West Side or northern New Jersey or Long Island to play church jobs and weddings, Lincoln Center and Broadway summer festivals and fill-in jobs at the Met and the Philharmonic. They occupy the ranks of a dozen freelance orchestras, put the music in Broadway musicals and provide soundtracks — or at least they used to — for Hollywood and Madison Avenue. They form the bedrock of musical life in a great cultural capital.
It was a good living. But the New York freelance musician — a bright thread in the fabric of the city — is dying out. In an age of sampling, digitization and outsourcing, New York's soundtrack and advertising-jingle recording industry has essentially collapsed. Broadway jobs are in decline. Dance companies rely increasingly on recorded music. And many freelance orchestras, among the last steady deals, are cutting back on their seasons, sometimes to nothingness.
Contracts for most of the freelance orchestras expired in September, and the players face the likelihood of further cuts in pay, or at least a freeze. All these orchestras rely on donations and, to a small extent, government grants. The Great Recession has taken its toll, putting a number of them under severe financial pressure.
"This is first time that there are quite a few managements coming to us and saying, 'We just don't have money,' " said Eugene Moye Jr., a veteran cellist who serves on the players committees in several orchestras. "Our community is under a lot of pressure. Our jobs are melting away. We have a lot of people who are right on the edge."
The Brooklyn Philharmonic, founded in 1954, has essentially stopped performing as an orchestra. The Long Island Philharmonic has only one concert scheduled this season — a Broadway medley — because of financial problems, although it is continuing its education programs. The Opera Orchestra of New York, which canceled its season last year, has come back with two concerts this year. The American Composers Orchestra is down to three concerts a year in the smaller Zankel Hall instead of five in Carnegie Hall's main auditorium less than a decade ago.
The Queens Symphony, which is supported mainly by the state and the city, has reduced its size to anywhere from 17 to 36 players from around 65, which means presenting smaller-scale programming. The Westchester Philharmonic, despite the star power of its music director, Itzhak Perlman, has $385,000 of debt and has had trouble paying its musicians. The American Symphony Orchestra has run $300,000 to $400,000 deficits a season for the last several years, with the gaps covered at the last minute by donors.
In the face of such problems the American Symphony is seeking a novel solution. It has proposed a contract that would provide a regular paycheck to its players in exchange for their commitment to play more concerts and the option to carry out nonperforming work, like teaching, coaching or benefit concerts.
"The freelance system as it now stands cannot support the musicians, especially with Broadway work drying up for them," said Lynne Meloccaro, the ensemble's executive director. Orchestra officials hope the arrangement will solidify the roster, improving quality and making the orchestra more attractive to donors.
"We want this to work," said Mr. Moye, the chairman of the players committee. But he added, "We will not be made into a group of indentured servants."
The freelance life has always been fraught with uncertainty. But many musicians say they relish the variety and spontaneity.
"I have always been so thrilled and grateful for the music I get to play," said Elizabeth Mann, a flutist who performs with the Orpheus Chamber Orchestra and the Orchestra of St. Luke's, two of the elite ensembles. "The lack of stability is something you have to reckon with."
Other freelance orchestras include the New York Pops, the Riverside Symphony, the Bronx Arts Ensemble and the Little Orchestra Society, along with the Mostly Mozart and American Ballet Theater orchestras. Some 520 musicians populate the rosters of freelance ensembles, said Jay Blumenthal, the official in charge of freelance contracts for Local 802 of the American Federation of Musicians. Mr. Blumenthal said the orchestra musicians generally earn $252 a performance, and $50 an hour for rehearsal.
Clay Ruede, 55, typified the freelance life that once was. Soon after he arrived in New York with his cello in 1977, music making filled his days and evenings. He crisscrossed the city for recording sessions, Broadway shows, substitute jobs at the Metropolitan Opera, gigs at the Mostly Mozart Festival and rehearsals with his Arden Trio.
He played his last Broadway show, "The Color Purple," in February 2008. He hasn't recorded a movie soundtrack in eight years. With his income down from six figures to about $30,000 this year, Mr. Ruede (pronounced REE-dee) has sold his spare cello and bow, put a playlist from a gig with Bjork on eBay and plans to short-sell his house in Englewood, N.J., to make ends meet. It didn't help that a divorce from the Arden Trio's violinist led to the group's breakup.
"The last three years I've just been barely making it," he said. "I've done stuff I haven't done since I was a teenager: playing weddings for cash, cocktail parties, things I never would have deigned to do. But you do what you have to." His next steady engagement is not until March.
Many musicians cite another sort of recession behind the dwindling opportunities: the Classical Music Recession. That is, the decreasing profile of the art form amid modern entertainment-saturated life. Benjamin Herman, 61, a veteran percussionist with vast experience as a freelancer, maintains that the P. D. Q. Bach concerts of the musical humorist Peter Schickele faded away not because the jokes weren't funny but because audiences didn't have enough musical knowledge to get them. While still getting by on occasional weeks of frenzy, Mr. Herman has long stretches of quiet.
In contrast he recalled a day 20 years ago, when he walked by the posters outside Carnegie Hall. "I pointed to the wall and said, 'I'm doing the wall,' " he recounted. "Every placard that was up, I was involved in the ensemble." Now, he added, "once in a while I'm lucky if I'm doing a placard."
The numbers reflect his story. At the Broadway theaters the total minimum number of musicians — decided by contract — has dropped to 335 from 526 in the early 1990s, according to Local 802. (Theater closings contributed to the decline.) The increase in rock musicals has also cut into the traditional freelance market.
On the recording front many producers are taking their business to cheaper orchestras overseas or using digitized music, and major studios have closed their doors. Making $15,000 on a jingle was not unheard of 20 years ago.
Because of the changing conditions, musicians are clinging to the jobs that remain, making it tougher for younger musicians to break in. Meanwhile the pool only grows. New York's main conservatories — the Juilliard School, the Manhattan School of Music and Mannes College the New School — pump out more than 500 degree holders a year. And that is not to mention universities in the New York region and conservatories around the country that send their graduates to New York.
The climate has forced many to adapt.
A new breed of younger, social-media-savvy musicians is forming and running its own groups, often with innovative programming, concerts in unexpected places — bars, art galleries and museums — and minimal pay. The International Contemporary Ensemble and the Knights, a chamber orchestra, are two of the more established examples.
"You do it yourself," said Claire Chase, 32, a flutist who helped start and runs the International Contemporary Ensemble. "You don't wait for people to discover you."
History thus repeats itself. The new groups evoke the arrival in the 1970s of ensembles like St. Luke's and Orpheus, then adventuresome, now established names.
To make ends meet older freelancers are also trying to adapt. Dale Stuckenbruck, 57, of West Hempstead, N.Y., a violinist and freelance veteran who lacks enough union work to qualify for health insurance, has developed a specialty playing the musical saw and teaching music to youngsters, helping them make traditional Chinese violins and instruments out of vegetables. He has taken on more violin students and teaches at the C. W. Post campus of Long Island University and the Waldorf School in Garden City, N.Y.
"The modern artist has to be much more diversified," he said. "You cannot play just Wieniawski or Chopin."
His enthusiasm for playing the violin, he added, has not waned. "I do what I do 24 hours a day, and I love every second," he said. "That's what an artist is. We love it so deeply. We go with what it is. It's not a job. It's our life."


Daniel J. Wakin | December 3, 2010


Weblink: http://www.nytimes.com/