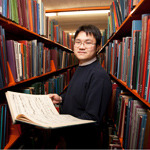 Humanity's musical treasures — Beethoven piano sonatas, Schubert songs, Mozart symphonies and the like — come to life in performance. But they truly survive as black marks on a page, otherwise known as scores. Now a Web site founded five years ago by a conservatory student, then 19 years old, has made a vast expanse of this repertory available, free.


The site, the International Music Score Library Project, has trod in the footsteps of Google Books and Project Gutenberg and grown to be one of the largest sources of scores anywhere. It claims to have 85,000 scores, or parts for nearly 35,000 works, with several thousand being added every month. That is a worrisome pace for traditional music publishers, whose bread and butter comes from renting and selling scores in expensive editions backed by the latest scholarship. More than a business threat, the site has raised messy copyright issues and drawn the ire of established publishers.
The site (imslp.org) is an open-source repository that uses the Wikipedia template and philosophy, "a visual analogue of a normal library," in the words of its founder, Edward W. Guo, the former conservatory student. Volunteers scan in scores or import them from other sources, like Beethoven House, the museum and research institute in Bonn, Germany. Other users oversee copyright issues and perform maintenance. Quality control — like catching missed pages — is also left to the public. "It's completely crowd sourced," Mr. Guo said.
The site has recently begun adding recordings. And through a partnership with a freelance musician in Indiana who runs a publishing business, it offers low-cost, on-demand printing of the music, often at a tiny fraction of the cost of standard editions. The prices of major publishing houses range widely depending on the number of instruments in the work or its length. A set of parts for a mainstream string quartet, for example, can run from $30 to $50.
The score library project has turned classical music into the latest wrestling mat for conventional information purveyors — newspapers, book publishers, record companies — and the new digital forces, like Apple, e-book sellers, music-sharing sites and Mr. Guo, now a 24-year-old Harvard law student.
While a boon to garret-living, financially struggling young musicians, the library has caught the attention of music publishers.
"I don't know if I would call it a threat, but I do believe it hurts sales," said Ed Matthew, a senior promotion manager at G. Schirmer in New York. "It is that profit that helps us to continue to bring out more composers' work."
Universal Edition, a music publisher based in Europe, where copyright laws tend to be stricter, threatened a cease-and-desist order against the site for copyright violations in October 2007. Mr. Guo said he did not have the time or money to remove all the offending scores, so he took the site down completely and posted an emotional farewell. That, he said, galvanized followers to appeal to Universal.
Then he took action. Mr. Guo said volunteers checked every score — 15,000 at the time — for copyright violations. He set up a company, Project Petrucci, to take ownership of the site to remove personal liability. (Ottaviano Petrucci was an Italian Renaissance printer who produced some of the first impressions of music with movable type.) A disclaimer was made to appear before any score opens, saying that the project provides no guarantee that the work is in the public domain and demanding that users obey copyright law. The site operates from servers in Canada, where copyright law is generally looser.
"We cannot know the copyright laws of 200 countries around the world," Mr. Guo said. "It is up to the downloader."
In July 2008 the project came back online. Downloads have surged.
Some complaints still arise, especially from Europe, Mr. Guo said. "We say we are not bound by E.U. law," he added, referring to the European Union. "Publishers usually go away." Mr. Guo said no formal legal challenges were pending.
He shows publishers little sympathy.
"In many cases these publishers are basically getting the revenue off of composers who are dead for a very long time," Mr. Guo said. "The Internet has become the dominant form of communication. Copyright law needs to change with it. We want people to have access to this material to foster creativity. Personally I don't feel pity for these publishers."
Those who "cling to their old business model," he added, will simply fade away.
But publishers point out that users of the site can miss the benefit of some modern editions that may be entitled to copyright protection — and thus not part of the public domain — because of significant changes to the music, such as corrections and editing marks based on years of scholarship about the composer's intention.
"You're paying for something that's worth more than the paper you're receiving," said Jonathan Irons, Universal Edition's promotion manager in Vienna. "Everybody expects somebody else to pay for it."
Music publishers also suggest that the site's warnings to avoid copyright violations amount to little more than a wink.
Mr. Irons said Universal was unfairly maligned by its critics for doing what music publishers typically do: use revenue from the sale of old pieces to finance publishing of contemporary composers. "They think we're sitting on our bums raking in cash, eating cake," he said.
But he made an effort to sound conciliatory about Mr. Guo's project, saying several times in an interview that "there's room for both of us." At the same time, Mr. Irons said, it is important to separate "this very valiant and completely kosher and clean repository of public material, which we perfectly endorse, and this kind of firebrand 'We want to show the publishers they're wrong' kind of attitude."
One blogger on music and technology, Gregory Beaver, who is also the cellist of the Chiara String Quartet, said in an e-mail that the site "has the potential to democratize printed classical music much as open source has democratized the programming world." But it could stand "a great deal of technical improvement in both its organization of the data and the look and feel."
Many important composers — including Stravinsky, Bartok and Messiaen — are barely represented or absent because the copyright has not expired for their works. But a number of contemporary composers have agreed to allow their works to be scanned under a Creative Commons license, which permits free online sharing as long as the originator is properly credited.
At least one professional group uses the site prominently. The Borromeo String Quartet plays from laptops with downloaded scores instead of sheet music. The digital music library is one of its major sources.
Mr. Guo said his drive to create a grand repository of music stemmed from his childhood in China, where his parents, both engineers, sent him to study violin at the elementary school of the Shanghai Conservatory. Browsing through a bookstore one day, he said, he was frustrated by how few orchestral scores were available.
His father took him to Vancouver, British Columbia, for high school when he was 13. Mr. Guo graduated a year early and entered the New England Conservatory of Music in Boston to study composition. There a world of scores, at the library and in music shops, lay open to him. But the memory of musical deprivation remained strong, and the idea of a bank of digital scores took flight.
"It was sort of the winter, and there wasn't much going on," Mr. Guo said. "I just thought this would be something that was a nice fit for my skill set. I'm a bit of a computer geek and a music geek and a law geek. That's how I got started."
And so, over a month during the New England winter, he built an early version of the International Music Score Library Project. "It was pretty ugly," he said. He uploaded the first score: Beethoven's Piano Sonata No. 1. "It was sort of a symbolic thing," he said. The scan is there, dated Feb. 16, 2006. The uploader is listed as Feldmahler, Mr. Guo's online handle, a name based on wordplay involving the composers Morton Feldman and Gustav Mahler.
The copyright questions stoked Mr. Guo's interest in the law. Thus Harvard Law School. But that was not the only reason he enrolled. "Composing is very good until you have to pay your bills," he said.
With the reports of billion-dollar valuations floating around other interactive Web sites, has Mr. Guo ever thought of trying to profit from his site?
"That's really not my M.O.," he said. "As a musician I have a duty to promote music. That's the basic philosophy behind it."


Daniel J. Wakin | February 22, 2011


Weblink: http://www.nytimes.com/