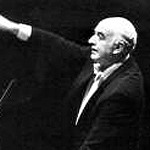 When Rudolf Barshai first took the podium to conduct the Vancouver Symphony Orchestra in a 1985 performance of Shostakovich's Symphony No. 8, it was clear immediately that he was something special.

"It was an incredible triumph," said Doug Sparkes, bass trombonist with the VSO. "I remember the audience going quite berserk. At the end of each performance, he held up a score to the audience and it was the wildest ovation."
Barshai, a former music director at the VSO, died at his home outside Basel, Switzerland, on Nov. 2 after struggling with ailing health for the past year. He was 86.
Born in Russia in 1924, Barshai knew Shostakovich's music on a very intimate level. He studied with the great composer, and often performed Shostakovich's music with the composer at the piano. They became close personal friends.
He was also close with Prokofiev, with whom he discussed orchestrations to a stunning degree. Barshai showed Sparkes a copy of a score for Prokofiev's Sinfonia Concertante, on which Barshai had re-orchestrated a couple of chords. "[Rudolf] thought it was maybe a better arrangement," said Sparkes. "And he showed us [the score] and made our hair stand on end, because Prokofiev's signature was there, approving this change. He agreed with Rudolf that it was an improvement."
A master of the viola, Barshai was the founding violist of Moscow's renowned Borodin Quartet. When Stalin and Prokofiev died – on the same day in 1953 – the quartet was ordered to play at both funerals. They were ferried back and forth between the two gravesites in an ambulance, Barshai remembered.
In Russia, Barshai performed chamber music with many greats, including Sviatoslav Richter and Yehudi Menuhin.
In 1955, he founded the Moscow Chamber Orchestra, which he led until 1977, when he left the Soviet Union for Israel. Barshai brought to the west a significant knowledge and understanding of Russian music, appearing with symphony orchestras around the world, including the Orchestre National de France, the Orchestre de Paris, the London Philharmonic and the Vienna Symphony.
In 1985, he arrived in Vancouver, where he was music director at the VSO until 1988.
"The one thing that I loved about working with him in the orchestra here was that it was so interesting to watch him in rehearsals," said Sparkes, who is still with the VSO. "If the strings were having problems, he would give them technical advice. Sometimes he would say just one or two words or one phrase and they'd try it and it would be fixed. It was just incredibly fascinating to watch this guy at work."
Among his accomplishments, Barshai recorded a complete cycle of Shostakovich symphonies, and in 2000 he completed and orchestrated Mahler's Tenth Symphony, which had been left unfinished at the composer's death.
"He was as excited as can be," said Natasha Boyko, a cellist with the VSO, about the accomplishment. "He was over 80, but those eyes were just sparkling."
Boyko and Sparkes – they're married – remained friends with Barshai and visited him several times at his home in Switzerland, where they'd wake in the morning to find him already at his piano.
"I remember we were staying there in the mountains," said Sparkes, "and there were cows walking around with bells and he just looked and said 'Doug, Doug, listen. Just like in Mahler's symphony.'" (Mahler's Sixth Symphony has cowbells in it.)
Interests beyond music included math and philosophy, but music was the guiding force in his life. "He took the art of music and the craft of conducting very seriously," said Sparkes. "He was a very serious musician, but I thought he was a great human being."
Barshai worked until his last days, according to his agency Askonas Holt, finally finishing what he considered a lifetime achievement: arranging Bach's The Art of Fugue.
"His scope of talent encompassed a celebrated career as a viola soloist, conductor and arranger; the likes of which may never be seen again," Askonas Holt noted in a statement. "The music world has lost a true great."
Marsha Lederman | November 4, 2010
Weblink: http://www.theglobeandmail.com/