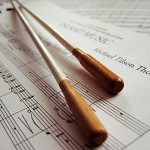 The hardwood baton used by San Francisco Symphony conductor Michael Tilson Thomas is 12 inches long and made by a retired stage hand in Amsterdam. The stick used by Nicola Luisotti, the San Francisco Opera's music director, is 13 inches long and crafted by his 82-year-old father using wood from trees grown near the family's home in Italy.


Across the bay, Berkeley Symphony's maestra Joana Carneiro wields a baton of rosewood and fiberglass, which she buys at a shop in Paris and cuts down to size herself.
There are batons made of silver birch and batons made of fiberglass, batons that are 10 inches long and batons that stretch to 24 inches. Small and soundless, the baton goes unnoticed by most concertgoers but can be an obsession to conductors. Born out of necessity centuries ago, when rooms were lit by candles and the conductor's gestures needed to be seen by musicians, the baton serves unseen roles.
The baton is a "living thing, charged with a kind of electricity," Leonard Bernstein once said, "which makes it an instrument of meaning in its tiniest movement."
Baton stolen
The path to finding the perfect baton began decades ago for Michael Tilson Thomas. Thomas was 24 and conducting for the Boston Symphony when, as a gesture of encouragement from the orchestra, he was given one of Sergei Koussevitzky's batons. Koussevitzky had built the Boston ensemble into a leading orchestra. "That was the proto baton," Thomas sighed.
In an incident that still puzzles Thomas, the Koussevitzky baton was stolen.
"At the end of a performance at Carnegie Hall, someone vaulted onstage and actually took the baton," Thomas recalled. "I was offstage and the musicians were making their way out. I couldn't believe it. That baton was kind of a talisman. I had conducted my first concerts with it."
So began the process, Thomas says, of finding a worthy replacement. In the years that followed, Thomas' batons were made by the Boston Symphony's head stage hand. Later, around 1980, while conducting with the Concertgebouw Orchestra in Amsterdam, Thomas met with head stagehand, H.F. Ummels.
"From then on," Thomas said, "Mr. Ummels was my purveyor of batons."
Used to communicate
Thomas uses the baton to communicate with the entire orchestra, but especially with musicians seated at the edges of the room. He says he can "architect a lot of musical shapes" based on the motions he makes with his fingers or wrist, shapes that are "much more visible with the baton."
And as he's aged, Thomas has found that the baton eases what his body needs to convey.
"Remember that I am now an increasingly, alarmingly, veteran musical athlete," laughed Thomas, who turns 65 this month. "There are not many baseball pitchers my age who are giving these accelerated motions that end in a complete stop. If I'm not using the stick, particularly if it's fast rhythmic music, it's more wear and tear on the shoulder."
Sadly, Thomas notes, he may soon be back searching for the ideal baton. Ummels has retired – along with his son, who stepped in and made Thomas' batons – leaving the maestro with a limited supply of sticks.
"I have a stash of his batons that I'm holding onto," Thomas said.
Luisotti's batons
For San Francisco Opera music director Nicola Luisotti, baton use began in 1994.
"For some time, I was unhappy with my batons," Luisotti said. "They all felt like foreign things in my hand. The first batons I used were made of plastic and cork. I never loved plastic. I didn't like how my hand turned the cork dirty."
One day while speaking with his father, Giulio Luisotti, who lives in the Tuscan village of Viareggio, the conductor mentioned his baton dissatisfaction. Giulio, a carpenter, said he would give baton making a try. Measurements for his son's hands were taken, and the work began.
"I told my father I didn't like the cork handle," he said. "Together we started to think about wood for the pomelo."
To achieve the desired weightiness, Giulio tucked a piece of lead into the baton's drop-shaped 2 3/4-inch grip (pomelo in Italian). He eventually chose white maple for the stem. The handle, though, would be made from olive trees in the village. As a finishing touch, Giulio stamped his son's name on the stem in gold.
"I hold this in my hand and know it is from my father," Luisotti said, studying the sleek baton. "My father is 82. Someday he will not be with me. Life is the life. So this baton is my blood. I have a part of my father right here. "
For other conductors – most notably Pierre Boulez – a baton is not needed.
Baton optional
Nicholas McGegan, music director of the Philharmonia Baroque Orchestra, does not use a baton.
"Most of my music is 17th, 18th or early 19th century and the orchestras are smaller," McGegan said. "I feel I can use both hands to express the gestures."
McGegan says that on the rare occasion when he uses a baton, "it feels like I have a bit of furniture in my hands, like I'm holding a chair leg."
The weight of a baton is what appeals to Joana Carneiro, Berkeley Symphony's music director. She has a tendency to raise her arm while conducting, she says.
"One thing I like about the baton I use is that the handle is heavier and it makes me feel grounded," she said of the baton she buys in Paris. "It keeps my arm lower."
She added, "Because I'm short, I always end up cutting the batons myself. The baton needs to feel proportional. It is an extension of my arm."
San Francisco Ballet's music director, Martin West, notes that a baton is to a conductor what an instrument is to a musician.
"I was a cellist and cellists can spend tens of thousands of dollars on their bows, getting the right bow," he said. West found his perfect Mollard baton about five years ago, after arriving in San Francisco. Made of Cocobolo wood, it is 16 inches long, has a white stem and a dark handle.
"I had tried out other batons, but hadn't been satisfied," he said. "This baton is nicely weighted but not too heavy."
"Remember," West said, "the baton is all I have to make noise. The orchestra is my instrument. I need the baton to play it."

Julian Guthrie | December 10, 2009
Weblink: www.sfgate.com/cgi-bin/article.cgi?f=/c/a/2009/12/10/DD9L1AMJVP.DTL