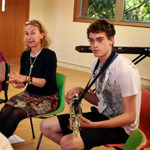 IN a drab classroom at Lewisham in Sydney's inner west, the chairs and tables are pushed to the edge of the room.


About 20 Year 11 and 12 students, some in school uniform, are standing in a circle.
Standing with them, Cathy Milliken leads them in stretching and relaxation exercises. "Girls, feet on the ground, we are trees" – and then starts them on a singing exercise, directing one group of boys to sing a simple melody, some of the girls to sing another, within minutes building the piece up into several part harmony until the sound fills the room.
"That sounds pretty outrageously great," says Brisbane-born Milliken, director since 2005 of [email protected] ([email protected]), the education department of the Berlin Philharmonic. She talks about the background of the music, the detailed foreground, the subject, the filling up of spaces with rhythm.
"Think about all that when you go back to your composition. You know, you've just been singing the funeral dirge from Mahler's Songs of a Wayfarer," she says.
With that she sends them off to get their instruments.
It's day four of REMIX Mahler, a two-week composition workshop run by Milliken, a composer, oboist, teacher and founding member of Frankfurt-based contemporary music group Ensemble Modern. Part of the Berlin Philharmonic's first visit to Australia, it's the first of four Zukunft workshops inspired by Mahler – later ones will run in Amsterdam, Berlin and New York. Prior experience in composition, says Milliken, is optional. "It can be good to have a mixture of some with experience and some without; it's about a type of communication through music."
The students rejoin the circle, bringing with them everything from a flute, saxophone and trumpet to cello, violin and electric guitar. Two stand behind a marimba and vibraphone, an array of percussion instruments laid out in front of them.
"Mahler wrote with very clear colours and that's what we should try to do," Milliken says. "He was very much a nature man; when he wrote about nature, you could hear the birds."
She describes an early morning scene: "Clean air, very clear, no traffic, birds going to be our background?" A cellist sets up a sustained note on his instrument.
"Very beautiful," Milliken says. "Now the rest of you, are you going to be a bird, a rustle in the bushes, footsteps? Don't think about notes, think about sounds. Let's go around the circle."
Each plays a few notes; some tentative in their approach, others more confident. "The flute was a gorgeous bird. OK, let's add more to the background, how about the two saxophones. The rest go for more birds, interjections, fill in the details."
The sounds go around the group again, slightly more assured, and a third time. "This time I want you to catch the last note of the person before you and be inspired by it. Make little shapes."
Milliken looks thrilled as more music is made. Students become inventive: some take their mouthpieces off their instruments to create more naturalistic sounds; others use their instruments in a percussive way.
"Thank you, you just did an extraordinarily beautiful morning. Now, off you go into your groups."
[email protected] is an initiative set up by the orchestra's chief conductor, Simon Rattle, as a way, says Milliken, who has lived in Europe since 1978, "of facilitating many dialogues around music, through dance, painting, poetry, composition; we're always trying new things". It's not only a way of bringing young people to music, she says, but of also getting their families involved, many of whom would never have had access to a concert hall.
Word went out for the Sydney workshop, part of the Sydney Opera House's world orchestras education program, via the arts unit of the NSW Department of Education and Training. All 36 students who applied, many of whom have recently finished their higher school certificate, were accepted, and came from as far as Forbes and Bellingen. "The email came through just before the exams," says clarinettist Belinda Smith of Girraween High School in Sydney's west. "It was the light at the end of the tunnel."
As a composer, Milliken finds the workshops helpful to her own compositions. "You really have to think on your feet," she says. She likens the process, with musicians on hand, as being "a composer's dream; you try things out immediately and the most extraordinary things can happen."
Half of the group who created the "beautiful morning" is gathered in an upstairs room. For the previous two days, they have been working on the last of Mahler's four Songs of a Wayfarer – The Two Blue Eyes of My Darling, using various phrases, lines and ideas from the text, rewriting and adding to them. The others are downstairs, working with the third song, I Have a Red-Hot Knife.
For the next hour and a half, the group, with Milliken's encouragement, develops a composition, gradually building up a background of cello, clarinet, flute, guitar and percussion, experimenting with various musical phrases, played at different tempos, to create a wonderfully complex and hypnotic platform. As they settle on each section, they furiously write their parts on manuscript paper.
Milliken asks saxophonist Mary Osborn to sing the first two lines of the first stanza the group has written.
The indigo blue of the velvet sky
Bade goodbye those soft blue eyes
Her voice is vulnerable yet confident, one you might hear at an inner-city club.
"That's getting jazzy," Milliken says.
"Sorry."
"No, I loved it."
From downstairs come the alarming sounds of, presumably, stabbing by a red-hot knife.
Someone asks whether the last line of the stanza, Softly gazing, will be sung.
"There are some things you can't know beforehand," Milliken says.
Alycia Debnam-Carey plays two chords on the marimba.
"That sounds grand," Milliken says. "Let's use those somehow."
She heads downstairs to work with the other group for a while. "Think about Softly gazing while I'm gone."
As they work up the piece, thinking of ways of varying elements for repeats, some start to feel unconvinced by the two chords.
"I like them, but don't get why they're there."
"Because they're pretty."
They're also not sure about singing every word of the four verses they've written.
"Who wants Softly gazing to be done another way?
When Milliken comes back, they run through what they've done, including representing Softly gazing by the two chords.
"Think about it," she says. "It's the most gorgeous thing in your life, if you have the soft gaze of someone on you."
Someone suggests using the trumpet, the only brass instrument in the group.
"Good idea,"Milliken says. "The trumpet's like speaking, the text comes out in the melody."
She asks Shota Matsumura from the Conservatorium High School to improvise. From a hesitant start, the melody takes flight. It stops the group.
"Exquisite," Milliken says.
Half an hour later, she's working with another group of 18 students; more breathing and singing exercises, more composition work on the other two Songs of a Wayfarer. The session runs overtime, but no one is leaving.
The unconventional approach of the workshop reminds violinist Esther Henderson of Bellingen High School of a wilderness trek she once did. "We walked for 10 days and then met up for 12 weeks and wrote a play based on our experiences.
"But the stakes are higher here; we have a lot less time, and there's a big performance at the end of it."
As everyone is packing up, Cathy Milliken has one last thing to ask.
"I just need to know who's available for a rehearsal at the Opera House on Monday. I want your piece to be as secure as possible before you start rehearsals with the Berlin Philharmonic on Wednesday."
Cellist Marc Valpiani of Newtown High School of the Performing Arts leans back in his chair, looking almost paralysed with disbelief.
"Are they playing with us? They'll be playing our music?"
"What an opportunity," says trombonist Hugh Brigden of North Sydney Boys High. "It's exhilarating, it's very exciting – I can't wait."
The REMIX Mahler composition was performed by the workshops participants and members of the Berlin Philharmonic in the northern foyer of the Opera House on Saturday immediately before the orchestra's final concert in Sydney.


Leta Keens | November 15, 2010


Weblink: http://www.theaustralian.com.au/