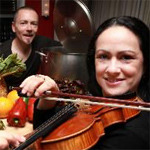 WHEN it comes to Beethoven's Fifth, leading chef Simon Bryant thinks of Chinese roast duck.


"Because there is so much drama," he says. A plate of roast duck may not look dramatic, but Bryant is thinking about what he did to the duck before it arrived on your plate.
"You have to blanche the duck a few times, and then you've gotta pump it up with a bicycle pump, and then you gotta hang it, and there's a bit of Chinese laundry going on, and when you actually portion it, it is a cleaver, and you can't muck around with ya cleaver."
The marriage of flavours of Simon Bryant and the Adelaide Symphony Orchestra might seem a bit of a clash at first glance. Bryant is well into heavy metal. He likes big noise when he is working in the kitchen and there is a good chance Metallica will be in the mix. But dig a bit deeper and you find a chef who was brought up to the sounds of the great classics by his mum. And even if he didn't like them at the time, they seem to have found their place in his life. Bryant was brought to the TV screen by long-running ABC show The Cook and the Chef, where Maggie Beer was the cook and Bryant the chef.
The success of the show prompted the Adelaide Symphony Orchestra to approach the duo last year on the off-chance they would agree to take part in an experiment on the Festival Theatre stage, where cooking live on stage was married with music. If all went well, the sights, sounds and particularly the smells of cooking could be turned into part of the performance.
Bryant had a similar foodie inspiration when ASO conductor Guy Noble suggested that Offenbach's popular Can Can music, the Galop Infernal, should be in the show. "Offenbach's piece is to me very whimsical and manic in its pace, and I just thought it was perfect for chuckin' ganache balls around in cocoa with all of the mess," he says. "And I am going to go to Metallica this year. I think their work can be orchestral.
"The Gregorian chant used to drive me crazy but it's back and I love it now."


Tim Lloyd | August 5, 2010
Weblink: http://www.adelaidenow.com.au/