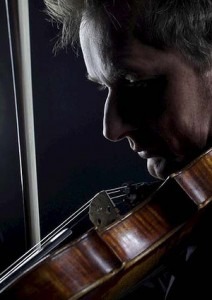 BEETHOVEN'S ninth and final symphony represents the apex of the great German composer's works.

Finished in 1824, three years before his death, it was the first example of a major composer using voices in a symphony. It is one of the biggest and most-loved works and considered by many as the greatest in the Western classical repertoire.
It should come as no surprise, then, that the Australian Chamber Orchestra decided to finish its Beethoven symphony series this year with the Ninth performed by the biggest cast it has used for any of its performances, with more than 50 orchestral players and more than 30 singers, including the acclaimed Choir of Clare College, Cambridge.
The ACO's artistic director, Richard Tognetti, describes the choir as "one of the finest Oxbridge mixed-voice choirs" with a reputation in Europe as one of the best choirs in the major choral repertoire.
"I heard they were planning an Australian tour and just had to snap them up," Tognetti says. "Their director, Graham Ross, who's also a composer, has worked extensively with me, making many excellent arrangements for the orchestra, including those for the ACO's concerts with Barry Humphries."
But it is only thanks to help from a man who describes himself as more of a practical person than a music buff that the choir was included in the program.
Investment expert Daryl Dixon studied economics at Clare College from 1964 to 1966. He and his wife were married in the chapel in 1965, and he now helps financially support the teaching of economics at the college.
So when Ross asked him to help organise a tour to Australia, Dixon approached a number of music groups in Australia, without success, before talking to Tognetti.
Dixon's real passion is economics and finance – he worked with the likes of H.C. "Nugget" Coombs, Frank Crean and Gough Whitlam on taxation reform in the mid 1970s, and with the International Monetary Fund, before setting up his own advisory business.
But he is proud of his connection to the choir, which leads services at the college chapel as well as recording, broadcasting and touring internationally. Touring overseas is expensive and Dixon wanted to ensure the choir had enough money for its trip to Australia to enable it to "present Clare College in the best light".
"The thing that was attractive to me and my wife was that the choir's inclusion gave the ACO the opportunity to perform a choral piece," he says.
"I am going to four of the concerts… I think it will be a very good musical event."


Wendy Frew (The Sydney Morning Herald) / August 3, 2012


Weblink : http://www.smh.com.au/
Photo credit : http://www.smh.com.au/