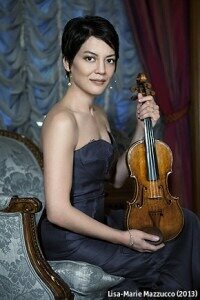 "EVERY violinmaker in the world tries to make his violins sound like this one", says Anne Akiko Meyers of the instrument she plays (both pictured). "It's in pristine condition, which makes it sound like none other." The violin, called the Vieuxtemps and made by the 18th-century Italian luthier Giuseppe Guarneri del Gesù, fetched over $16m (£10.5m) when it was sold to an anonymous buyer in a private deal last year. This makes it the most expensive violin ever sold.

Welcome to the red-hot violin market. Despite the recent economic downturn, instrument prices have continued to rise at remarkable rates. Between 1980 and 2011 the average auction prices for Stradivari increased at an annual rate of 15.4%, according to Violin Advisor, an instrument advisory firm. "During the recession, wealthy people lost so much money on stocks and property, but the ones who owned rare violins didn't lose a penny," says Paolo Alberghini, a New York violin dealer who was involved in the Vieuxtemps sale. "In fact, they made money. These instruments are recession-proof."
Instrument buyers tend to have a connection to music. "When they buy a Stradivari or a Guarneri, they don't just turn around and sell it the way they'd sell shares," explains Mr Alberghini. And this "rarity of instruments makes the market heat up even more." Guarneri built some 250 violins, of which only some 150 survive, whereas Stradivari made some 1,100 instruments, including violas, cellos and harps, according to estimates by the Smithsonian Institution in Washington, DC. Of these, only a handful come on the market every year. One of them, a Stradivari violin stolen from a London café three years ago, is expected to earn more than £2m when it is sold by Tarisio, a fine-instrument auction house, later this month.
This market for instruments often puts musicians at a disadvantage. "Some of the best instruments today are inaccessible to musicians," observes Gordan Nikolitch, head of London Symphony Orchestra. "You might find a benefactor who'll lend you his instrument, but you don't know how long you'll be able to play it." Some investors lend their precious instruments to promising musicians, but many prefer to store them in a safe place.
Yet hiding a precious instrument away can be counterproductive, explains Andy Fein, violinmaker in Minnesota. "A stringed instrument is not something that you can buy, stow away and expect that it will be in perfect condition a decade or two down the road. Just the opposite," he says.
Ms Meyers has been fortunate enough to buy two Stradivari of her own. (She declined to specify how she financed the purchases.) And the Vieuxtemps's new owner decided earlier this year to give Ms Meyers the famous instrument as a lifetime loan. Why did he lend it to her rather than, say, Anne Sophie Mutter? Reached through an intermediary, the buyer would say only that "it was a natural fit to unite one of the greatest instruments with one of the top artists." But Julie Reed-Yeboah, a violin restorer who was involved in the deal, adds that Ms Meyers "has demonstrated an incredible level of care over the instruments that she has played in the past. Given that this is one of the best preserved examples of Guarneri Del Gesù's work, it's very important that it is well cared for".
Traders now regularly place adverts in financial publications asking instrument owners whether they have had their instruments valued recently. In fact, values appear set to rise further, which has musicians worried that they will have access to ever fewer to play. "We violinists rely on these instruments as a way of life," says Ms Meyers. Her new album with the English Chamber Orchestra, which features the Vieuxtemps in its debut commercial recording, will be released early next year.
Yet Mr Nikolitch of the LSO sees a silver lining in this rush for fancy instruments: though ever fewer Stradivari and Guarneri will be available to musicians, less famous luthiers are finally getting some attention. "A violin by [Jacob] Stainer [an Austrian 17th-century violinmaker], for example, makes an excellent sound and costs just one hundredth of the average Stradivarim," he notes. When young players ask him for advice about instruments, Mr Nikolitch tells them to listen to their head, not the market.
E.H.B. (The Economist) / December 2, 2013

Weblink : http://www.economist.com/
Photo credit : http://www.economist.com/