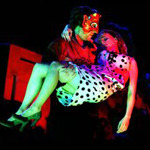 It is the story of an immoral Lothario, a tale which begins with sexual violence and ends with divine justice. You'd have thought seasoned opera-goers would be well prepared for the exploits of Don Giovanni. But that hasn't stopped a new production from being accused of "shock tactics" by suggesting scenes involving gang rape.


The English National Opera's latest production of the opera, which began its run on 6 November, has come under fire for its two rape scenes, one implying the gang rape of a woman by a masked mob wearing T-shirts featuring the image of Jesus Christ. Such scenes are believed to push the boundaries of how Giovanni's character can be interpreted, with some critics suggesting it may be sensationalism designed to attract a younger crowd.
"Don Giovanni is a shocking opera about a man who treats a woman in a disgusting fashion," said Oliver Condy, editor of BBC Music. "There is no point shying away from it and giving the audience a sanitised version.
"But the rapes are only suggested in the opera. I'm not sure they are supposed to be seen on stage, so perhaps that is taking things too far.
"It's not very savoury, and maybe they are trying to shock for shock's sake. But in an era of cuts to the arts, ENO knows it needs to find a way of grabbing an audience, and that's certainly one way of doing it."
The opera is produced by the celebrated theatre director Rufus Norris, whose previous projects include a West End production of the musical Cabaret, and Festen at London's Almeida Theatre. Around 30 per cent of opera-goers are now under 44, an increase on the 21 per cent attending operas in 2005.
This is not the first time an ENO production of Don Giovanni has attracted brickbats. "Any production of Don Giovanni that begins with Donna Anna having consensual sex on the back seat of a car is, rather like the lady herself, somewhat compromised," said The Independent's opera critic Edward Seckerson of a 2001 production reinterpreted by the Spanish theatre director Calixto Bieito.
"ENO is committed to creating a future for opera through working with a wide range of talent from across the arts," said the ENO's artistic director John Berry. "Keeping opera fresh and relevant for contemporary audiences is about creating work which has its finger on the pulse, and Rufus Norris's new production of Don Giovanni does just this, hence the overwhelmingly positive reaction from our audiences.
"The piece rarely receives unanimous applause as the narrative is about power and sex set against a sublime 18th-century score, and therefore audiences through the ages have struggled to come to terms with it, especially in modern interpretations."
Seasoned opera critics have played down this latest row. "There is nothing shocking about the production," added Seckerson. "There are lots of decisions one might have made differently. The director hasn't made a comment on the class issues pivotal to the centre of the story. He was much more interested in how sex can become a drug. But I don't think he set out to shock. I think he was more excited by the sexual interaction between the main characters. No production team sets out to produce work that doesn't succeed."


Rob Sharp | November 29, 2010


Weblink: http://www.independent.co.uk/