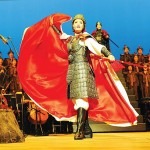 The Chinese production of ancient opera Poems of Mulan, which has won widespread recognition abroad, will return to Beijing Thursday to kick off its 2010 tour with a one-night-only show at the Great Hall of the People to mark the 89th anniversary of the Communist Party of China.


Created and performed by the People's Liberation Army (PLA) Performing Arts Troupe, Poems of Mulan, based on the well-known Chinese folk tale heroine Mulan who disguises herself as a man to take the place of her ailing father in the army, the work has traveled the globe, including performances at New York's Lincoln Center in 2005 and Vienna's National Opera House in 2008.
"Mulan is not a traditional Chinese opera nor a direct adoption of Western opera," Guan Xia, composer of the show and president of China National Symphony Orchestra, told the Global Times.
Integrating symphony, Western opera, musical theater, drama and dance with Chinese folk music, folk tales and traditional costumes, Poems of Mulan, according to Guan, is a successful blend of East and West, enabling a Chinese opera production to find success on the international stage.
Audiences will see actors and dancers in ancient-style costumes performing on the same stage with a modern orchestra dressed in Western suits, in front of a huge LCD screen showing different scenes, according to Guan.
Like the previous performances abroad, English subtitles will be shown on the screen to help foreign audiences better understand the story, Guan added.
"Language will not be a problem anyway. All the elements, such as Mulan's softness and braveness, the cruelty of war and the beauty of peace, will all be presented through music and performance," soprano Lei Jia, 31, who plays the title role of Mulan, told the Global Times. "I believe there is no aesthetic gap between audiences."
During the Beijing performance, Lei will share her role of Mulan with Tan Jing. Renowned tenors Yu Shuang and Sun Xuexiang will also divide the role of General Liu Shuang, the hero.
"We split the roles of Mulan and General Liu to offer young performers more chances to be on stage for the show," veteran singer Jiang Lina, who plays Mulan's mother, told the Global Times.
The opera was first staged in Beijing in 2004 with celebrated soprano Peng Liyuan playing the lead role of heroine Mulan, while tenor Dai Yuqiang acted as General Liu Shuang. A young generation of performers took over their positions in 2009, during which, Jiang's role of Mulan's mother stayed the same.
"I have performed with Lei Jia and Tan Jing after Peng Liyuan and I am happy to see them grow up and being recognized by the audience," Jiang said, herself the mother of an 11-year-old girl. "Looking back at the things we have been through, I feel they are daughters of my own."
Lei's debut in Poems of Mulan in Tokyo last year moved many audience members to tears when she suddenly knelt down in front of her mother before joining the army, which was not part of the original choreography. Japanese Crown Prince Naruhito met Lei after watching the show and spoke highly of her performance.
During Mulan, Lei makes several costume changes, from a delicate three-layer Sui Dynasty (581-618) dress to a men's military uniform and back and forth, which, according to the actress, is the most challenging part of the role, the slightly-built Lei wearing a 30-pound armor for nearly two hours each night.
Directed by Li Fuxiang, also vice president of the troupe, Poems of Mulan has received extensive recognition since its debut, with Peng Liyuan and composer Guan Xia honored as "outstanding artists" by the Lincoln Center.
Despite the work's international acclaim, Jiang said many people feel classical art such as opera is too far removed from their lives, adding that she would like to see opera performed at universities so young people could see, enjoy and become involved.
"My job is to perform at my best, but we also need audiences to appreciate it," she said. "If you think opera is still far away from you, try to step in just to watch it once and you may change your mind forever."


Jiang Wanjuan | June 28, 2010
Weblink: life.globaltimes.cn