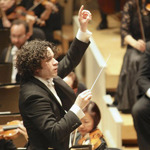 The Los Angeles Philharmonic sounds like an orchestra that's out to impress. A high-octane publicity machine is flaunting the orchestra's new music director, Gustavo Dudamel, as if he were the Second Coming.


All evidence suggests he is bringing a new level of excitement to symphony concerts at the Walt Disney Concert Hall. More power to him, say I: Now, more than ever, classical music needs its knight-errants on silver steeds.
The orchestra, with the 29-year-old Venezuelan dynamo at its helm, rolled into town Friday night on the fourth stop of an 8-city, 10-concert sweep of the U.S. that marks their first joint tour. Orchestra Hall had been sold out for months, and anticipation ran high. But the concert only partly delivered on the hype, reinforcing worries I've had about Dudamel after his appearances here with both the Chicago Symphony and his own Simon Bolivar Youth Orchestra of Venezuela in recent years.
There's no question he is inordinately talented, a brilliant and inspiring podium dervish who can get an orchestra to do anything he wishes while lifting an audience out of its seats. Even so, there sometimes appears to be a disconnect between the musical ends and the means he employs to achieve them. Half-formed interpretative ideas betray a lack of musical depth. The problem is not so much one of faulty instincts as where and how he channels those instincts.
His program showed Dudamel at his flashiest. It began with John Adams' "City Noir," a terrific new piece the orchestra commissioned and introduced at its inaugural gala last fall. The second half held an unexceptional reading of Tchaikovsky's "Pathetique" Symphony that pointed to areas where more work needs to be done if this musical marriage is to succeed over the long haul.
"City Noir" is a symphony in all but name. Cast in three sections lasting a half-hour, it melds sophisticated compositional devices with symphonic jazz style to evoke the Los Angeles that's enshrined in 1940s and early '50s film noir and tabloid journalism of that era. Adams' huge orchestral apparatus often packs a tremendous sonic wallop, especially in the third and final section, "Boulevard Night," a crazy thrill-ride that suggests "The Rite of Spring" on mescaline.
Sometimes as excessive as the town it celebrates, "City Noir" eases up on the throttle long enough to allow solo instruments their camera-ready close-ups: An alto sax wails, a trombone croons, a trumpet sings blues in the night. I found it one of the best and most inventive scores Adams has written in years. "City Noir" suits Dudamel's high-energy style and he drove his band through an exhilarating performance, albeit with some untidy ensemble work.
His Tchaikovsky "Pathetique" was a disappointment. At least under their previous music director, Esa-Pekka Salonen, the orchestra sounded like a disciplined, well-drilled instrument; here the playing was looser and not all that distinguished. The strings lacked depth, the brass could be coarse and the woodwinds, while good individually, didn't function as a true chamber-music unit when playing together.
Dudamel looked to be in ecstasy on the podium, slashing the air with his baton, crouching and levitating as he drove the Russian warhorse onward. But that visual show of emotion did not translate into a particularly coherent or deeply felt reading. Pacing was erratic, balances were careless and there were noticeable lapses of tension between melodramatic effusions. Tchaikovsky's final plunge into black despair and death can be a shattering experience; not here. Only the march movement really worked.
The audience, which fell into the usual trap of applauding between the third and fourth movements, observed a full minute of silence, at Dudamel's behest, before breaking into a thunderous ovation.
He did not have his players twirling their instruments at the end but the visiting Angelenos did offer two encores: The Intermezzo from Puccini's "Manon Lescaut" and the Waltz from Leonard Bernstein's Divertimento for Orchestra.


John von Rhein | May 16, 2010
Weblink: http://www.chicagotribune.com/