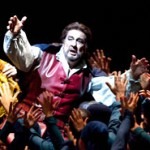 Plácido Domingo, the star tenor, said his usual prayer to St Blaise, patron saint of healthy throats, skipped on to the Berlin stage — and promptly transformed himself into a baritone.


In the opera world this is almost the equivalent of turning water into wine, frogs into princes. Little wonder then that Domingo fans had travelled from across Europe to the State Opera in Berlin on Saturday night to listen to his rendering of the lead role in Verdi's Simon Boccanegra. The performance was followed by an unusually long standing ovation and members of the audience were seen weeping. German critics called Domingo's performance lyrical, his voice firm.
"A singer doesn't sing with only one sound," said 68-year-old Domingo before the premiere. "Like a painter you always have the palette for different colours." But the fact is that few modern singers have been so clearly identified with the tenor voice.
He has an unprecedented tenor repertoire of 134 roles. As one of the Three Tenors, with José Carreras and the late Luciano Pavarotti, he was an international brand name, appearing in front of vast television audiences.
Domingo, however, set out as a baritone, performing as a teenager. Then, in 1959, he was auditioned as a tenor by the Mexican National Opera and stuck with it for 50 years. There was, though, always a deeper colouring to his voice, allowing him to take on Wagnerian tenor roles. Other singers have made the shift — what is unusual is that a tenor should return to his baritone roots at the end of his career.
Critics have suggested that the conversion is part of an elaborate preretirement strategy; the singer hoping to end his career on, so to speak, a low note. Suddenly Domingo can hope to compete for key baritone roles and broaden his market appeal. "We look forward to the day when he plays the super-bad Iago, baritone of course, in Verdi's Otello," says the Rheinische Post critic Wolfram Goertz. "And if his tenor colleague playing Otello should lose his voice, I am sure that Domingo could jump in and play both roles."
Domingo had originally seen the Simon Boccanegra role as a crowning moment of his career: 20 concerts have been booked in Berlin, Milan and next year in Covent Garden. The role begins with Boccanegra as a young corsair but by the next act he has aged 25 years and become the wise Doge of Genoa and, at the end, is fading away, rotted by poison. It is a suitable career-ending work, registering the passage of time and accretion of wisdom.
"The initial idea was to say goodbye with it," said Domingo, "But it didn't work out that way." Instead, he is booked up at least until the age of 73 — with tenor and baritone parts.
All great singers naturally fear losing their voices. Some reviews that Domingo has got this year suggest that age is taking its toll. "There is a weathered, grainy texture to his sound," said The New York Times in April after he sang in Wagner's Die Walküre. "The clarion brilliance and myriad shadings are not what they were."
Apart from adapting his voice roles, Domingo has been building up a non-singing career, taking on the general directorship of the Los Angeles Opera and the Washington National Opera. He even has his own New York restaurant. Just don't complain if the soup has a weathered, grainy texture. That is now, officially, the Domingo style.

Roger Boyes | October 26, 2009
Weblink: entertainment.timesonline.co.uk/tol/arts_and_entertainment/music/article6889879.ece