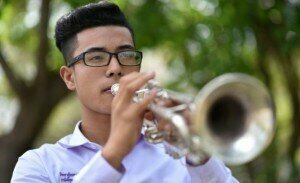 The 14-year conflict between Muslim insurgents and authorities in Thailand's three southernmost provinces has claimed more than 7,000 lives. But can music help bridge the sectarian divide?

Watching news coverage of the repeated killings in southern Thailand led one city mayor to a depressing conclusion.
"Every time a situation arises, there are two mindsets: if you're a Buddhist you will feel satisfied when a Muslim dies, and if you're a Muslim it's the other way around," says Pongsak Yingchoncharoen. Full story.
Nanchanok Wongsamuth (BBC News) / April 29, 2018

Weblink : https://www.bbc.com
Photo credit : https://www.bbc.com