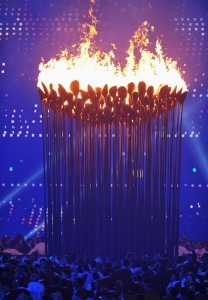 Call it the Concerto for Piano, App, and Orchestra. Chelsea's Orpheus Sinfonia is to premiere a new piano concerto by Stephen Goss inspired by a series of architectural structures and accompanied, on audience members' iPads, by images of them.

Goss, head of the composition faculty at the University of Surrey, admits that the visual element will not be for everyone. The basic idea is to attract the young and digitally savvy to the concert hall.
The piece has its own app, so at the start of the concert, conductor Thomas Carroll will signal when it should be activated.
Thomas Heatherwick, who designed the 2012 Olympic Cauldron of "petals," is the architect whose work inspired Goss.
"While French pianist Emmanuel Despax plays, the audience will be helped to 'visualize' the music with a film of Heatherwick Studio works," reports The Independent, "including the Longchamp leather goods store in New York, with its sweeping, ribbon-like steel stairs."
Says Goss, "'The notion of people sitting silently in rows and not fidgeting doesn't help attract people to concerts. Showing people images is a very useful way to help an audience get involved with a piece of music. Listening to a new, 30-minute concerto is a big ask."
The app is optional, and Goss is aware that those who take it may end up updating their Facebook statuses or cruising the web.
"There's more to going to concerts than just music," said Goss. "Anything that draws new crowds has to be a good thing."
MusicalAmerica.com / April 3, 2013

Weblink : http://www.musicalamerica.com/
Photo credit : http://www.musicalamerica.com/