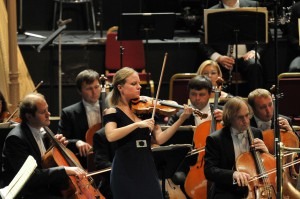 The Proms programme should tell you something about the performer

In this, the final week of the Proms, I had the pleasure of seeing the great German violin virtuoso Julia Fischer. She not only played brilliantly, but unlike some of her peers, had commanding stage presence. So, in the interval I paid my £4, and bought an official programme to find out more about her.
It was a mine of information. Useless information. It listed all the orchestras she had performed with "in recent seasons." There they all were, from the Cleveland Orchestra to the Leipzig Gewandhaus and many others. But wait, there's more. The next paragraph listed the orchestras she had played with "this season." And in case you were wondering – I wasn't – these included the Tonhalle Orchestra Zurich and the Bavarian Radio Symphony Orchestra to name but two. Full story.
David Lister (Independent) / September 9, 2015

Weblink : http://www.independent.co.uk/
Photo credit : http://www.independent.co.uk/