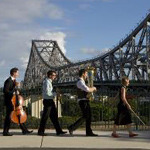 IS IT images with music or music with images? Good question, and one the Bleeding Heart gallery in Brisbane would rather not answer.


Instead, the organisers of a new heARTbeat event, combining contemporary classical music and cutting-edge art, would rather people just come to appreciate both.
The Brisbane Chamber Collective's string quartet will perform a series of pieces in the heritage-listed gallery that is also showing paintings and images by up-and-coming artists.
Joanna Nilson, the gallery's events co-ordinator, says: "I really wanted to put these two art forms together in order to get a different audience.
"People can then appreciate something that they wouldn't otherwise experience."
What makes this event different from the traditional venue for classical music is that the collective's musicians will pause to explain something about each piece they play, to give audiences some insight into the music.
During the interval many of the artists will be on hand to attempt to explain something about their work.
It's not a new concept.
The collective used to do a similar thing at a smaller Paddington gallery, which has since closed. The collective's director and violinist Nicole McMahon says those events were always popular.
"It works because you would get the art crowd and the music crowd, and I think there is a difference between the two," she says.
The music will include a performance of Graeme Koehne's True History of the Kelly Gang, inspired by the Peter Carey book on the infamous Australian bushranger.
Other works include a Spanish serenade by Alexander Borodin, Handel's Suite No.7 in G Minor for Harpsichord performed by violin and cello, and to finish, the cheeky Allegretto by Dmitri Shostakovich.
The artworks on display are all part of an exhibition called Eastcoasters, featuring emerging and established artists from Brisbane, the Gold Coast, Byron Bay, Lismore and Sydney.
Curator Travis Dewan will also be on hand to talk about many of the artworks.
The gallery hopes this venture will be a success.
"It just seemed like a really great idea," Nilson says.


Michael Lund | July 08, 2010
Weblink: http://www.couriermail.com.au/