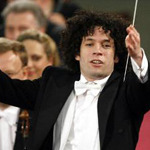 The greatest rivalries are frequently between people who were once close colleagues and may even have grown up together. Think of Cain and Abel, Lenin and Trotsky, Blair and Brown, Lennon and McCartney. Now the classical music business is enthralled by something similar in the murky world of agents.


The world's most charismatic young conductor – Gustavo Dudamel, the Venezuelan who achieved sensational fame with the Simon Bolvar Youth Orchestra and is now music director of the Los Angeles Philharmonic – has been snatched from one agency by another. The money involved isn't big by Hollywood or pop music standards. Music-business insiders reckon the agent's commission (typically 15 per cent) on Dudamel's fees during the next five years (at, say, $33,000 a concert) will amount to about $830,000, although Dudamel could earn his agent millions if he conducts at the highest level for the next 50 years.
But the preening on one side and seething annoyance on the other attest to the pride involved. To add spice to the story, both agencies are based in London, the world capital of classical music deal-making. And both are run by men who, 30 years ago, cut their teeth in the same office.
One is Martin Campbell-White, joint chief executive of Askonas Holt. He is the agent most famous for spotting the potential of a teenager at the Royal Academy of Music and managing his career so well that the boy became chief conductor of the Berlin Philharmonic. The teenager's name was Simon Rattle.
Also in Campbell-White's star-packed fold are conductors Daniel Barenboim, John Eliot Gardiner, Claudio Abbado, Bernard Haitink and dozens of other luminaries. It's quite a list. But earlier this year he lost Dudamel, the conductor who may well become the biggest of all.
Dudamel has gone to Van Walsum, an agency owned by a man who once worked with Campbell-White at Askonas Holt. That man is Stephen Wright. Does he feel guilt for poaching the biggest prize from his old colleague? If he does, he hides it well.
"We've all lost artists to other agents over the years," he says. "It's happened to me, it's happened to Jasper Parrott [another veteran operator on the London classical music scene] and it has happened to Martin. There are some losses that hurt and some you accept philosophically. Either way, it's part of the business."
Losing Dudamel has certainly hurt Campbell-White. "Gustavo is a genius and I love him," he says. "I'm terribly sad that he's gone."
Yet he agrees that poaching is part of the business. "It's easy to do," he continues. "We don't have contracts with our musicians; at least, my company doesn't. I don't believe in them. If there's not a trust between manager and musician then it becomes just about money. And this may sound pompous, but my philosophy has never been to push ruthlessly for the highest fees. Perhaps, as a result, we have our longest relationships with musicians of a similar nature. Simon [Rattle] has no idea what his fees are. He trusts me. And our artists are free to go to other agents if they want, though of course it's disappointing when they do."
That sounds very stoic and gentlemanly. Then Campbell-White's face darkens. "With the agency's own staff it's different," he says. "If they shit on us after we have invested in them I can be quite nasty."
Which brings us to the nub of Campbell-White's bitterness. While Dudamel was at Askonas Holt he was managed by an agent called Mark Newbanks. Newbanks chose to jump ship, joining Van Walsum as head of artist management. And Dudamel, his prize client, decided to jump with him.
Was Newbanks poached by Wright explicitly so that Van Walsum could lure Dudamel, the rising star, into its fold? "If you know this business you'll know that these things are very subtle and complicated," Wright replies or, rather, doesn't reply.
So the idea of poaching Dudamel never came into the discussions? "Well, yes and no. Rachel van Walsum, our head of artist management, was leaving. We engaged Mark to replace her and take over her roster of artists. This was a step up for Mark. It wasn't primarily a way of getting the artists he had managed elsewhere."
Not primarily? But a big factor, nevertheless?
"Dudamel is a different issue," Wright insists. "The really close relationships between musicians and agents involve lifetime bonds. Rattle has been with Martin Campbell-White since 1974. Colin Davis has been with Ron Wilford [the octogenarian boss of Columbia Artists in New York] all his career. I looked after Neville Marriner for 30 years. It's based on personal trust. And clearly, with Dudamel, the 'I go where he goes' philosophy applied."
What can Van Walsum offer Dudamel that Askonas Holt couldn't?
"He gets the full benefit of being managed by Mark," Wright says. "Then there's my special expertise in audiovisual developments and the new digital platforms. I have made 18 music films. And in future Van Walsum will be working closely with Medici TV, which specialises in the live streaming of concerts.
"Through them we can reach a new audience, hundreds of thousands of people around the world. It's a different skill that we can offer 21st-century musicians such as Gustavo."
But does Wright feel that these modern skills are beyond what a traditional agency such as Askonas Holt could offer? "You may say that," he replies coyly. "I couldn't possibly comment."
Campbell-White is having none of that. To him, the Dudamel affair is just a case of a rival trying to nick talent from his empire. "Stephen Wright has got backing from someone and wants to build another management agency quickly," he says. "The easiest way of doing that is by buying people from other agencies."


Richard Morrison | May 07, 2010
Weblink: http://www.theaustralian.com.au/