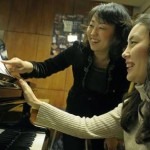 Young Asian musicians are increasingly choosing Poland as the place to perfect their skills and absorb the atmosphere in the native land of the renowned 19th-century romantic composer Frederic Chopin, who is adored in Asia.


More and more young Asian musicians are choosing Poland as the place to perfect their skills and absorb the atmosphere in the native land of the renowned 19th-century romantic composer Frederic Chopin, who is adored in Asia.
"I love Chopin's music. I feel it is so beautiful and so nostalgic – it's very pure and passionate and so I like to live in Warsaw, in Poland," says Aya Gokita, 27, a Japanese piano student.
She is one of 40 Japanese and Koreans studying at Warsaw's Fryderyk Chopin University of Music.
South Korean music student Jeong Soojin, 22, agrees. "In Korea, most important is technique. I think technique is important, but more important is my emotion," says Jeong, who was also drawn to Poland by Chopin's music.
The ex-Communist country of 38 million, which joined the European Union in 2004, is set to celebrate the bicentennial of the Franco-Polish composer's birth in 2010 with a year-long programme of events.
"Chopin touches chords in the Asian soul that we can't imagine exist under the surface of calm, smiling faces – on the contrary, they are throbbing with emotion under this social mask," says Ewa Izykowska, a voice professor at Chopin University, explaining why she thinks Chopin is popular in Asia.
Izykowska, who spent four years teaching vocal technique in South Korea, is the deputy director of a Polish-Korean music department that was created a decade ago by Warsaw's Chopin academy and South Korea's Keimyung University.
Students of the programme focus on violin, piano, composition, voice and cello for three years in South Korea and two in Poland, with some deciding to stay longer for supplementary courses once they have pocketed their diploma.
While there is no such bilateral programme with Japan, young Japanese musicians, primarily pianists, are also keen to study at Chopin University. Other Polish music schools are also developing contacts with Asia.
Music academies in the Baltic Sea port of Gdansk and central industrial city of Lodz are preparing programmes for students from China, where classical music is booming.
The music academy in the southern city of Krakow already hosts around 25 Chinese students, while 16 are studying in the western city of Poznan.
"Many of them, pianists for example, want to come to Poland to feel, to breathe the atmosphere of the country where Chopin lived," says Izykowska.
"They feel they're able to play his Mazurkas well here. And it really is quite the case! It's like going to New Orleans if you want to learn to play the blues or jazz."
The fact that Poland is at a cultural crossroads between East and West also draws students from Asia, Izykowska says.
"We've suffered invasions, our country was partitioned, so we've always been subject to external influences. All of a sudden in the modern day this tradition has become a great asset," Izykowska notes, explaining that the musical traditions of great composers and pianists such as Rachmaninoff, Tchaikovsky and even Mozart are also alive and well in Poland.
Held every five years, the prestigious International Fryderyk Chopin Piano Competition, which is revered among Chopin fans and pianists, also powerfully attracts young Asian musical talent, said Monika Kolenda, from Chopin University.
But forging a musical career in Europe for Asian students is far from simple, and opportunities are scarce in Poland.
"For work, Poland isn't open. It's difficult for us to find work," says South Korean singer Kim Ae-Ran, 26, who is studying opera and preparing to become a teaching assistant in the Polish-Korean programme.
But Izykowska is convinced that the numbers of classical musicians from Asia can only grow.
"There will be more and more Asian classical musicians, due to their exceptional determination and their willingness to struggle – qualities that are indispensable for any artist," she says.
"I think the future of classical music lies in Asia. It needs classical music… the love for classical music there is incredible, perhaps even greater than in Europe," she says, explaining that what is old in Europe is still a novelty in the Far East and an acquaintanceship with the classics raises social prestige.

Ursula Hyzy | December 3, 2009
Weblink: www.telegraph.co.uk/expat/expatnews/6716744/Chopins-homeland-is-magnet-for-Asian-musical-talent.html