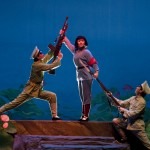 In recent years, classical music in China has been experiencing a crescendo. China's conservatories are turning out child prodigy musicians. Cities are sprouting concert halls, and factories are cranking out violins and pianos. And Chinese cultural officials seem determined that their country will become a world-class power in opera, as well.


One of the first Chinese divas to capture the international limelight is soprano Zhang Liping. At a major Beijing opera festival this summer, she reprised the role of Madame Butterfly, which brought her acclaim in London in 2003 and New York in 2004.
In an interview at a cafe near the Central Conservatory, where she teaches, Zhang says this was the first time she had performed Madame Butterfly in Beijing, and she was surprised at the local audience's level of discernment and appreciation.
She describes the opera's famous aria "One Beautiful Day." As she sings it, Madame Butterfly is lost in a reverie about the return of her unfaithful husband, U.S. Navy Lt. Pinkerton. She awakes in a flash of conviction that he will return to her in Nagasaki, Japan.
"Then the melody changes, and bam! Tutto questo avverra, te lo prometto," Zhang says, breaking into Italian. "She returns to reality and says to her maid, Suzuki, 'All this will happen, I promise you.' "
Zhang has spent more than a decade studying and performing overseas, mostly in Great Britain and Canada. She says that after years of simply studying Western opera, more and more Chinese musicians are now getting a chance to live it.
"It's hard to say if we can really get the flavor of it right," she chuckles. "Our culture may keep us from doing so. So I think you really have to go live over there, to drink their wine, eat their food, browse through their museums and understand their culture."
The opera festival ran from April to July, and included 13 Chinese and foreign operas performed by 2,000 artists.
Zhang joked that it was almost a "Zhang Liping festival." She played the title character in Puccini's Tosca, as well as the slave girl Liu in Turandot. The festival's Madame Butterfly was a joint production with the most famous opera house in Venice, Italy — Teatro La Fenice.
The theater's artistic director, Fortunato Ortombina, is enthusiastic about the potential for operatic cooperation between China and Europe.
"What I found really, really interesting and made me impressed, is how many young Chinese musicians, young Chinese singers I found when I go to [singing competitions]. They are very well-educated and very well-trained, and very well, uh, how [do you] say, with a lot of attitude."
The festival was held at that titanium temple to highbrow culture, Beijing's National Center for the Performing Arts, which looks like an orb-shaped spacecraft that's just landed in a lake. It's the brainchild of French architect Paul Andreu, and the pet project of former President Jiang Zemin, whose calligraphy hangs in shiny, metallic Chinese characters over the entrance.
Elena Park, assistant manager of the Metropolitan Opera in New York, says she finds the structure visually stunning.
"It seems like the building kind of epitomizes the great commitment and ambition of the Chinese government," she says, "and their will to accomplish things on kind of a grand scale very quickly."
The Chinese contributions to this summer's festival also reflected the government's will. They were all of a single genre, known as Red Classics, and all from the Maoist era.
One of the works, entitled Sister Jiang, was performed by the People's Liberation Army Air Force Art Troupe. The opera is set in 1948, as the communists trounce the nationalists in a civil war. Communist agent Sister Jiang leads guerrilla attacks on the nationalists, until she is captured and tortured.
"Hot tears are running down my needles and thread," she sings, as she sews a red flag while awaiting execution in her prison cell — a little bit like a Chinese version of Betsy Ross, under extreme interrogation techniques.
Communists and nationalists go at it again in the opera Red Guards on Lake Honghu. In it, one of the characters sings: "The Communist Party's kindness is deeper than the East Sea."
Chinese culture officials point out that older Chinese were all raised on the Red Classics, and that the genre is closer to Western Opera than other traditional Chinese opera, such as Peking Opera, which include elements of acrobatics and martial arts.
Huang Dingshan, head of the Song and Dance Troupe of the General Political Department of the People's Liberation Army, argues that there's no reason Sister Jiang can't be performed next to Verdi's Rigoletto or Bizet's Carmen.
"Art knows no national boundaries," he says. "It is the language of a great world harmony. Of course, every country has its own history. But under the influence of art, all people's spirits are connected."
Some may find the Red Classics a bit anachronistic or ideologically heavy. But Tony Hall, chief executive of the Royal Opera House in the U.K., says he thinks such fare might go over well in London.
"The National Ballet of China came last year and did some revolutionary ballet," he says, speaking at a reception during the opera festival. "I think it was Swan Lake they did — and the public loved it, and funnily enough, the pieces that were most successful with our audience were the Chinese ballet. So I think people are ready for it," he continues. "I mean, like any opera, no doubt it will need a huge amount of preparation, making sure people know what they're going to see, but I think so.
Whatever people may think of the Red Classics, for now at least, China's government is promoting them as the country's official contribution to the body of world opera. If they work hard enough at it, perhaps the Red Classics will one day be no more exotic to Western eyes and ears than Western opera is to Chinese audiences.

Anthony Kuhn | August 19, 2009
Weblink: www.npr.org/templates/story/story.php?storyId=111824050