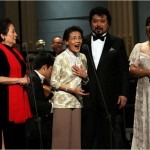 Pavarotti started the ball rolling. On the occasion of a concert he gave in 1986 to a packed crowd of 10,000 Chinese at Beijing's Great Hall of the People, the tenor expressed a single regret, that "the capital of the world's most populous nation should be without a suitable opera theater."


It took only a matter of years to correct that. Western "opera houses" sprang up all over China, most notably the National Center for the Performing Arts on Tiananmen Square, Paul Andreu's $350 million glass-and-titanium bubble with a 2,416-seat state-of-the-art Opera Hall fit to match anything in Europe or America.
In China, Western performance culture fits a middle class that wears Prada and reads Vogue. These same people want their opera expensive, exotic, "branded" — from Maryinsky or La Scala.
Homegrown productions fare less well, leaving few opportunities for the scores of singers filling China's nine leading conservatories and a plethora of private schools. They must look abroad. And Chinese singers are indeed making inroads into the European and American scenes.
The country has yet to produce a Pavarotti or Renée Fleming, but names like the bass Metropolitan Opera regular Han Jiang Tian, or Liping Zhang — an acclaimed Liu and Madame Butterfly at the Royal Opera — appear frequently. Today all eyes are on He Hui, the Xian-born dramatic soprano who sang Tosca at La Scala in 2007 and who will sing Aida at the Met on March 26 and 31.
The person who has been carefully nurturing many of China's top opera singers for international careers is the 93-year-old Zhou Xiaoyan. The daughter of a wealthy Wuhan banker who befriended the Chinese premier Zhou Enlai and eventually gave much of his wealth to the Communists, "Madame Zhou" was brought up in the privileged milieu of 1930s Shanghai, when musical life was dominated by White Russians and Jews. She attended an Italian Catholic school and in 1936 entered the National Music Conservatory, later to become the Shanghai Conservatory.
When her teacher there declared her voice "too throaty," Ms. Zhou decided to train in Europe, entering first the École Normale in Paris and later the city's Conservatoire des Russes, which happened to be run by Nikolai Tcherepnin, father of the composer Alexander, whose wife was Chinese and a colleague of Ms. Zhou. There she developed a bell-like lyric coloratura with a purity of tone ideal for roles like Gilda in Verdi's "Rigoletto" and Lakmé in the Delibes work of that name. But given that, she said, "China had no opera at that time," she went on to embrace a concert repertoire that included the songs of Fauré and Debussy.
After the war she stayed in Europe, giving recitals in Luxembourg, Paris and London. Invited to sing at the first Prague Festival in 1946, she mixed with musicians like Shostakovich, David Oistrakh, Leonard Bernstein and Sviatoslav Richter and she earned the sobriquet the "Chinese nightingale." In 1947, however, her father urged her to return to Shanghai.
"The city was in a shocking state of turmoil," Ms. Zhou said. "The Japanese had left but the Kuomintang dominated the city. Poverty was everywhere and mobsters ruled." That was until one fateful night in 1949 when she remembered "soldiers in straw hats and yellow uniforms taking over the streets outside" as Communist forces entered the city.
She met Zhou Enlai during the new regime's first conference on literature and art in 1949.
"I was moved that he remembered my brother, who died fighting the Japanese," she said. "I apologized that I'd done nothing for the Revolution," to which he said, "When you join the Revolution doesn't matter. The most important is that you stand on the side of the people."
Over the next 10 years Ms. Zhou did just that, performing in factories and shipyards and joining official tours to Poland, India, North Korea — and of course the Soviet Union, whose composers like Shostakovich and Khachaturian were in favor in Shanghai.
One day in 1965, however, Ms. Zhou arrived at the ransacked Shanghai Conservatory to find her name looming large and crossed in red paint.
"I complained that I was not the director of the conservatory," she said, "to which they accused me of counterrevolutionary activities."
Ms. Zhou and her husband were sent into the provinces to rear pigs and chickens, and did not return until 1970.
The day of Zhou Enlai's death was "a black day" but she never lost faith that "the Chinese people were not going to allow the four people to succeed in destroying our culture." At the end of that dark period, she was overjoyed, she said, to see it was the Gang of Four, a leftist political faction composed of four Communist Party officials who came to prominence during the Cultural Revolution, that had been defiled.
Yet she is philosophical about the Cultural Revolution. "Of course it was hard. I was made to realize that I knew very little about my country. It was when I learned what it is to be Chinese — before I had been so cosmopolitan," she said with a smile.
"It was not so brutal. Zhou Enlai couldn't directly help me, but somehow I think he protected my family, who were mostly in Beijing. Red Guards never went near their house."
The operatic revival began in earnest with Deng Xiaoping's great thaw. Realizing that Chinese singers required training not just in singing but in ensemble work, language coaching, stylistic analysis and musical preparation, Ms. Zhou set up her elite opera center, the Zhou Xiaoyan Young Opera Singers Trainee Center on the fourth floor of an outlying block of the Shanghai Conservatory.
That was 1988. The following year a "Rigoletto" in Chinese was produced by the Nanjing government, which supported a local festival and orchestra. Ms. Zhou's center provided the soloists. A program of exchanges that was set up between the Shanghai Conservatory, the Shanghai Opera and the San Francisco Opera resulted in the first original language production of Gounod's "Romeo and Juliet" in 1996, followed by Bizet's "Carmen" a year later with Ms. Zhou's pupil Wei Song as Don José.
In 1998 the Shanghai Grand Theater, the country's first state-of-the-art opera auditorium, was inaugurated with an "Aida" from Florence. All three operas were produced by the young Chinese mogul Bonko Chan. When he was arrested for corruption in 2001, the city's capacity to produce staged opera looked vulnerable.
By that time her singers were beginning to look abroad, however. One of her star pupils, the tenor Jianyi Zhang, won the Belvedere competition in Vienna and went on to sing Faust and Des Grieux at the Metropolitan Opera with James Levine. Liao Changyong, a winner in Plácido Domingo's 1997 Operalia prize, joined Mr. Domingo for "Il Trovatore" in Tokyo and in Washington under the tenor's baton. Born in rural Chengdu Province, he triumphed again at the New York City Opera as Ezio in "Attila" in 2001.
Currently China's most famous baritone, Mr. Liao divides his time between opera engagements — including Rodrigo in "Don Carlo" in 2008 and "Rigoletto" the year before in Shanghai — and leading the Conservatory's vocal department. Mr. Liao came to Ms. Zhou as a shy country boy, she said, "with no English and a voice that was dry and thin. He'd been listening endlessly to CDs and had learned arias parrot-fashion. But he was keen and smart, and quickly began to demonstrate real individuality."
Guanqun Yu, Ms. Zhou's latest discovery, beat scores of other singers to win the 2008 Belvedere competition with a powerful presentation that included an aria from Puccini's "Manon Lescaut." Ms. Guanqun has been engaged to sing a Mozart opera in Italy.
Competitions have proliferated in China and are seen by many as the way to get ahead. The tireless Ms. Zhou works to see that they are well prepared and without delusions.
Another Conservatory student, the 22-year old soprano Fang Ying has just taken top prize in the Golden Bell Award, a national singing competition in Guangdong, with, among other arias, Handel's coloratura "Da Tempeste" from Giulio Cesare, a brave choice since the composer has had almost no exposure in China.
"Handel gives you the opportunity to be vocally inventive, so I love to embellish and decorate and put character into the music," said the soprano, who comes from Zhejiang Province. "Madame Zhou helped me find the confidence to do that."

Liping Zhang

Liao Changyong

Robert Turnbull | March 4, 2010
Weblink:
www.nytimes.com/2010/03/05/arts/05iht-madame.html