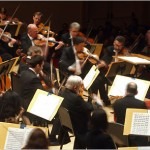 You can sense the soul of certain great orchestras, just by seeing where they live. The Chicago Symphony Orchestra – which is about to open the Shell Classic International Series at London's South Bank Centre – is one of them.


Inside Chicago's Symphony Hall there's a splendid art-deco foyer, and off to one side a chandeliered hallway with a deep-pile carpet and perfect quiet that leads on to offices. Everything exudes an air of luxury and deep seriousness. Above the portico are the names of the Great Symphonic Composers – including, surprisingly, Richard Wagner, who wrote only operas. "They thought about Brahms but decided he was too modern," says Valerie Moss, the orchestra's vice-president for operations. Too modern? "Yes," she laughs. "You have to remember this was a very conservative, very European orchestra when it was born. All the rehearsals were conducted in German."
That was in 1891, when Chicago was becoming rich on the back of the meat-packing and railroad industries. The orchestra's rise to fame began with the great Fritz Reiner in the Fifties, but it was during the 22-year reign of the fierce Hungarian George Solti that the orchestra became the brawny yet subtle precision instrument that it is today, famed especially for its noble and stupendously powerful brass sound. A recent orchestral poll in Gramophone magazine named it as the best American orchestra, and fifth in global terms.
To be ranked ahead of the New York Philharmonic was sweet indeed for this city, always chippy about playing second-fiddle to the Big Apple.
Times are tough for American orchestras. For years audiences have been ageing and falling in numbers, and at least a dozen US orchestras have gone to the wall in the last decade. All this is familiar to British orchestral managers, as is the orchestra's determination to "add value" to the concert experience by putting the music in its cultural context. What's unique about the CSO approach is its combination of razzle-dazzle and high-mindedness. Three times a year it hosts Beyond the Score, a "cultural portrait" of the evening's main work combining theatre, film documentary and commentary. These have been so successful that several orchestras in the US and Europe have syndicated them.
While all this patient work has been going on, the CSO has suffered the kind of upheaval that has derailed many a great orchestra. In 2004 Daniel Barenboim, who had been the orchestra's music director for 13 years, abruptly quit. Replacing him has taken time. Like several other top-rank American orchestras, the CSO has found that maestri with the right combination of experience and charisma are hard to find, and since 2006 it's been in the peculiar position of having two "caretaker" conductors.
But with caretakers of the calibre of Bernard Haitink and Pierre Boulez, the orchestra has in effect had two world-class figureheads instead of one. At least, that's how their marketing department has talked up the arrangement. Is the hype justified? John von Rhein, long-serving Chicago music critic, thinks it certainly is. "If you're asking me has quality been compromised, the answer is an emphatic no. If anything, the orchestra sounds even better," he says. "It's evident that with Haitink it's been a case of love at first sight." Haitink brings a seasoned glow to the great Austro-German repertoire, while Boulez's forensic clarity in new music has added lustre to the orchestra's contemporary music series.
Now a third maestro will share top billing for the orchestra's new season: Riccardo Muti, who next autumn takes over as the orchestra's music director. Bagging Muti was another moment of triumph over the Big Apple, as the New York Philharmonic had tried twice to woo Muti and failed. What swayed Muti was sheer musical seduction. He'd asked the CSO to play a particularly finger-twisting passage in a Prokofiev symphony, and to his amazement it came out perfectly. "It was like a miracle," said Muti at the time of the announcement. "The passage was perfect, clean from the beginning to the end. They give you everything. You just have to respond in the same way." It's a feeling both Haitink and Boulez clearly share. As Boulez puts it, "With this orchestra, the high points are always higher."
The Chicago Symphony Orchestra and Bernard Haitink appear at the Royal Festival Hall (0871 663 2500) on Sept 23 and 24 as part of the Shell Classic International Series