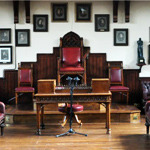 The Telegraph's music critic Ivan Hewett sat with Stephen Fry on the winning side of a debate about whether classical music is irrelevant to today's youth.


Five minutes before walking into the historic, brown-leathered chamber of the Cambridge Union, I told myself very firmly that I wasn't nervous. Five minutes later, as I processed in alongside my fellow-debators to a great storm of applause, I realised I was lying. My heart had that peculiar deep thumping I remember from the days when I used to do live radio shows. I looked across the chamber, and saw that one of the opposing team, DJ Kissy Sell Out – resplendent in brand new white t-shirt and box-fresh trainers – looked even more nervous than I felt. Which immediately made me feel better.
Then we were off. The motion was 'This House believes classical music is irrelevant to today's youth'. It was the first shot in a campaign to raise awareness of "Vocal Futures", a new organisation set up by lady Eatwell to involve young people in classical music through singing, in unusual and spectacular spaces (see www.vocalfutures.org). I was there to help Stephen Fry and philosophy student Hugo Hickson oppose it.
The proposers of the motion were a formidable bunch. Student composer Joe Bates argued that the contemporary music's contempt for its audience was symptomatic of the general malaise of classical music. Greg Sandow, Juilliard School lecturer and excellent writer (see www.gregsandow.com) had all the facts and figures to prove the motion beyond doubt – and was also properly sarcastic about classical music's sense of entitlement to public attention and public money. Kissy Sell Out confessed to bafflement over classical music's weird ways. All that sitting in silence, listening to somebody else making music – which is so fundamentally alien to youth's desire to get up and dance, or get up and make music for themselves.
They were eloquent (and not just in words; Kissy Sell Out came armed with four turntables and a pile of albums which he remixed on the spot). But we on the opposing bench won 365 to 57, with 88 abstainers. How did we manage it, when the facts seemed to be so against us? Well, we mustered some pretty good arguments. Hugo Hickson held up the Venezuelan Sistema as evidence that classical music has completely outgrown its high-falutin, aristocratic origins. I poured some sarcasm on that ideologically loaded boo-word 'relevance', and also on the idea that 'today's youth' are a strange alien life-form, who couldn't possibly like music which has pleased millions down the centuries. But it was Stephen Fry who delivered the knockout blow. "The idea that classical music is the province of white-wigged old farts shows a failure of imagination and rank snobbery," he roared. Cue cheering all round.
Naturally I was pleased. But I don't think we won all by ourselves; I think we were helped by a shared, inchoate sense that classical music, whatever one thinks of it, is a cultural achievement that can't be lightly thrown away. It was shown by the complete lack of rancour on the opposite bench (or indeed anywhere in the room) towards classical music itself. Even those who were irritated by its inherited privileges, or baffled by its strange, buttoned-up ways, or its willingness to repeat the same old masterpieces century after century, seemed to quite like it. Which to me showed a remarkable generosity of spirit. I think it was that, as much as our eloquence (which of course was magnificent) which made those fine examples of 'today's youth' deliver such a resounding 'no'.


Ivan Hewett | May 13, 2011


Weblink: http://www.telegraph.co.uk/
Photo credit: http://www.cus.org/