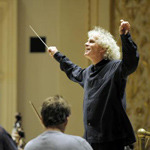 Orchestras don't come any hotter than the Berlin Philharmonic but maestro Simon Rattle knows how to tend the fire.


'THIS isn't for radio, is it?" asks Simon Rattle, biting deep into an apple. "I'm sorry, but I really need this." This is neither original sin nor a subversive sound collage; just a hungry chief conductor of one of the world's finest orchestras after a hard morning's work. The crunching underscores the soft purr of the car as Berlin rolls past in the russet colours of autumn sunshine. Though busy, Rattle wants to talk about his orchestra's first Australian tour.
He has found time in his schedule to chat during the drive from concert hall, where he has just been conducting a visiting orchestra of Venezuelan teenagers ("they're unbelievable; how great to have that much passion") to family home ("my next challenge today is to cook pasta for eight"). Since he lives on the leafy outskirts of the German capital, the drive takes long enough for both fruit and thoughtful conversation.
Rattle is the sixth chief conductor of the Berlin Philharmonic since its birth in 1882. He is the first, say some players, to treat everyone from stagehand to concertmaster with the same democratic courtesy. The 55-year-old conductor is famous for his reluctance to give interviews, but you would never know it now. A natural communicator, Rattle speaks with disarming candour.
When he brings the Berlin Philharmonic to Australia this month it will not only be their first trip to this continent but also the farthest he has ever flown. "It's an adventure!" he enthuses. "This isn't a tour. It's a privilege."
The Berlin Philharmonic has a history of travelling well. When the orchestra was founded, it was because 54 musicians of Benjamin Bilse's ensemble refused to travel on a fourth-class train to Warsaw. Generally ranked among the world's three best orchestras, the philharmonic's excellence means working conditions must be good enough to keep top players happy enough not to seek jobs elsewhere. For the forthcoming tour, which includes stops in Abu Dhabi and Singapore, Lufthansa will provide the orchestra with its own 747 for the journey.
"I'm sure within my lifetime we won't be able to tour such distances. We'll probably be carbon-capped," says Rattle. "And I really hope we will. Constant air flight will have to die out. But for those of us who really believe that music is different in every part of the world and that music should be live, it's something else. We need to hear Australian orchestras and they need to hear German orchestras. And I hope that this extraordinary orchestra with its particular personal sound can make a huge impact there."
Though Rattle refuses to talk about what his mental images of Australia may be ("anything I say will sound like the most embarrassingly ignorant cliche you can imagine"), his orchestra's Australian members have offered him some insight into the country. Though violist Brett Dean left the orchestra to return to Australia and concentrate on composing before Rattle took up the principal conductor post in 2002, the two had been close friends since the Liverpudlian began to conduct the orchestra in 1987.
"Brett is some kind of brother to me," Rattle says. "He always was. His entire family is part of my most important extended family, so I have a real curiosity about what produces these extraordinary people."
Dean became a member of the Berlin Philharmonic in 1985. Two more Australians have joined since — violinist Stanley Dodds in 1994 and solo double bass player Matthew McDonald last year. "What's interesting is that all three of them are very remarkable people in that they bind other people together. Maybe we've just found three exceptional people, but it has to be more than a coincidence that they're all from the same place," Rattle says.
Despite their common nationality, Dean, Dodds and McDonald entered the orchestra in different ways. Dean arrived in Berlin as a curious 22-year-old in 1984, auditioned for the Berlin Philharmonic because, he says laconically, he "had no better idea at the time", and became a full-time member in May 1985. Dodds had never even considered an orchestral career when he joined the orchestra's Karajan Academy (a training scheme from which many future members are drawn) at 22, but became a full orchestral member within less than two years. For McDonald, in contrast, the struggle to win a post with the orchestra was a life goal that took a decade to achieve.
It took McDonald two attempts to win a place in the Karajan Academy and he went through two unsuccessful auditions for the orchestra in the ensuing years. "I went back to Australia and visited my uncle Rob in Alice Springs," McDonald recounts. "He was putting the sausages on the barbecue, and he said to me, 'You know what, mate? You just keep going back there and show them you're interested, and they'd be mad not to take you.' And I was thinking, 'You know nothing about this. It's not like that.' "
Then an audition for one of the two solo double bass positions was announced. "I had to give it one more try," McDonald says. "I didn't know how many auditions I would have been willing to do. I told myself that this would be the last one, but I knew that if I hadn't won this job, I would have auditioned again the next year. I had to get in somehow. I was hooked by the energy and the attitude and the freedom of the orchestra, by the fun and the joy of making a racket. You don't have the feeling that it's a normal orchestra where you have to toe the line. Every last string player is giving everything. It's just like sitting on a great wave."
McDonald passed the third audition; uncle Rob was right. "It was like watching a film of myself," McDonald says. "I couldn't quite believe it. I was surrounded by people congratulating me.
"Simon Rattle came and hugged me. Unbelievable. I'll never forget it."
But passing the audition is only part of becoming a member of the Berlin Philharmonic, a self-determined orchestra where players vote on who may join their ranks. A trial period of up to two years follows, for many a psychologically shattering experience. It is common for newcomers to fail their trial years.
"The orchestra was very supportive and encouraging, but in my own head the paranoia was just incredible," McDonald says. "You can never know until the vote comes. If you're early on a note or one little solo scratches somewhere . . . They want to see someone who takes risks. That's what the orchestra is about, taking risks. So you're treading this fine line of trying to show that you're a risk-taker but not taking risks so that you don't mess something up.
"When I passed, it was an incredible relief. I can play with more freedom now, and the feeling of acceptance allows you to develop even further."
Dodds, now a member of the orchestra's managing committee and a conductor of other orchestras, views the audition process with interest. "Back when I auditioned, it was a good time. There was a generation change taking place and when I came here there were four vacant violin jobs all at once. Now the audition process is fought extremely hard. We'll go for talent. On the one hand you want individual artistic prowess and strength, and on the other is compatibility, uniformity, conformity. You might say it's totally impossible to reconcile those two poles. But that's exactly the reconciliation [that] gives the orchestra its potency.
"I can't imagine what it must be like to stand in front of this orchestra. The longer I conduct myself, the more respect I have. It makes conductors grow old very fast. But on the other hand, if you are able to unleash some of this power, I really don't think there's anything like it."
The Berlin Philharmonic's scuffles with its chief conductors make media headlines every few years. Like a capricious lover, it goes through regular phases of disenchantment, often coupled with nostalgia for a lost past. When Herbert von Karajan died in 1989, he was succeeded by Claudio Abbado. Not everyone was happy. Some complained Abbado was ruining the orchestra's traditional sound, and hankering for the Karajan days, despite the climate of dissatisfaction that had surrounded the ageing Austrian in his final years. Nine years later, with the orchestra in a mutinous mood, Abbado became the first conductor in the orchestra's history to resign. All his predecessors had stayed in the job until they died. Abbado's subsequent battle with cancer left many musicians contrite.
Once the initial euphoria of Rattle's appointment had worn off, some began to accuse him, in turn, of "ruining the orchestra's special sound". "Oh, I am so terribly sorry," he quipped in response at one press conference. The irony was lost on much of the German media.
"It burns in a very particular way, this orchestra," he says now. "You put your hands too close to it and they can be scorched. There is something about the fierce depth with which they play that is unique. I think you would say in Australia that tall poppies are attracted to this orchestra. In fact we only have tall poppies, so they can't see over each other's heads."
Does it burn? "Yeah," agrees Dean. "That's why it's so singularly magnificent. But also why it's a tough gig for anyone, even coming in as a guest. It's a volatile beast. It can be a pretty wild ride."
Rattle has weathered the storms; last year, his contract was extended until 2018.
"Tradition isn't set in stone," says Dean. "It can't be about expecting everything to remain absolutely unchanged. It should be to do with upholding a great musical history [while] contributing to its ongoing health."
In the debates over Rattle's innovations, says Dean, many commentators forget just how many radical changes Abbado brought about in repertoire, seasonal planning, rehearsal time and stylistic flexibility: all essential developments to move the orchestra towards the 21st century. "It's hardly recognisable as the orchestra that I joined in 1985," Dean says. "It's much more all-embracing now than it was then. It's rhythmically light years ahead now."
The players all have their views on tradition. Playing styles have evolved significantly during the past three decades, McDonald says, though the older players pass on traditions to the younger members.
"I think Rattle has brought a very clear vision of how this orchestra should look forward," Dodds says. "He brings impulses and creative ideas which give the orchestra a profile. He's aware of a greater world outside what we have here."
One of Rattle's key innovations was the introduction of [email protected], a revolutionary music-education program that has taken the orchestra out of the Philharmonie, its state-of-the-art Berlin concert hall, and into schools, prisons, old-age homes, a disused tram depot and other marginal places.
"What is special about the program is that its target participants come from such a broad range of backgrounds," says Catherine Milliken, who has directed Zukunft @BPhil since 2005.
"That is very much born out of Simon Rattle's idea of actively creating music, whether you've actually studied it or not. We work towards integration but meet on a very musical level."
The Berlin Philharmonic brings a Zukunft project to Sydney. Didgeridoo soloist and composer William Barton has completed a commission for a small ensemble of Berlin Philharmonic instrumentalists that will be performed with a new work created by Sydney schoolchildren and inspired by the music of Mahler. There are also two other offshoot programs, the self-explanatory 12 Cellists and the Scharoun Ensemble Berlin, an octet of BPO players named after the architect of the Philharmonie.
Milliken, also Australian, sees nothing unusual about the high proportion of her compatriots in the orchestra. "There are a lot of people from everywhere in this orchestra," she says. "The unifying factor is that we're all from Berlin."
The Berlin of the philharmonic has changed dramatically since Rattle began to conduct in the city. "The orchestra was a very elite kind of diva on the edge of the city," Rattle remembers. "Karajan's dressing-room did actually look out on to the Berlin Wall. It was the last thing in the city. And now, of course, instead of being on the edge, we're in the centre of the city. It has become a place where different types of people can come and be part of what we have to offer. And it has become incredibly important for the players, too, to feel that connection. We all believe that this music belongs to everybody. I've seen lives changed. This is a type of music which communicates like no other."
Eight years down the track, has Rattle become a Berliner? As the car pulls up outside the home he shares with his wife, Czech singer Magdalena Kozena, and their two young children, Rattle laughs.
"My five-year-old Jonas was desperately trying to teach me how to say 'pretzel' with the right German accent the other day. I will never be as fluent as my children. As far as he's concerned, he's German. I'm still an immigrant, but it's home. And I love it."


Shirley Apthorp | November 6, 2010
Weblink: http://www.theaustralian.com.au/