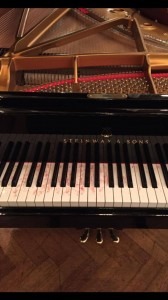 They say a picture is worth a thousand words. London Symphony Orchestra first violinist Rhys Watkins snapped this photo last night at the intermission of the LSO concert at the Wiener Konzerthaus. Yefim Bronfman was the soloist in the Bartók's Third Piano Concerto. The LSO comment: "What you might call a hell of a performance."

Among the comments (and we quote):
"It was a bloody great performance."
"Crikey. If it was the Second Piano Concerto I'd understand, but the Third …? Full story.
MusicalAmerica.com / October 14, 2015

Weblink : http://www.musicalamerica.com/
Photo credit : http://www.musicalamerica.com/