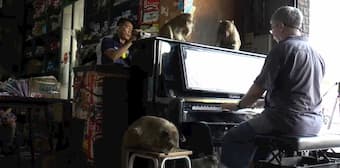 They were hungry for more than an encore.

British pianist Paul Barton was thronged by wild monkeys as he performed classical music to hundreds of them in Lopburi, Thailand to soothe them as they face pandemic-related hunger problems.
"It's possible that the music can play a part of the rehabilitation process," said Barton, a longtime Thailand resident who said the project was to help the primates since there are fewer visitors feeding them. Full story.
Jackie Salo (New York Post) / November 23, 2020
Weblink : https://nypost.com
Photo credit : https://nypost.com